Philips Fortimo LED Integrated spot Gen2 dimmable, the ideal module for smart LED redesigns of 50W LV halogen type of fixtures.
Mar 6th, 2013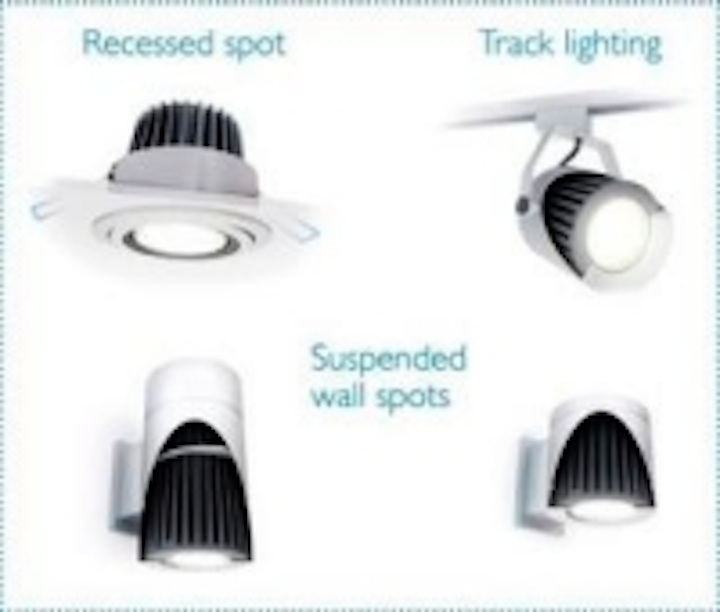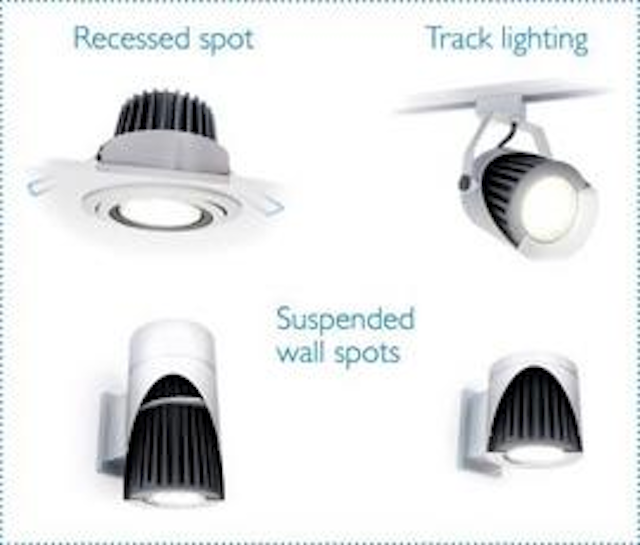 Date Announced: 06 Mar 2013
The Fortimo LED Integrated spot 600 lumen is an all in one solution that includes an integrated driver, optics and heat sink. This solution is not only easy to design in, it also provides luminaire manufacturers high quality of light and flexibility of choice. The integrated spot module is available in three different color temperatures (2700, 3000 and 4000K) and comes with three beam angles (15, 24 and 36 degree). The current upgrade, Fortimo LED Integrated spot Gen 2, is now also dimmable (Leading Edge) allowing users to create the desired ambience in each environment.
Marius Schlatmann, Regional Product Marketing Manager Low Lumen said: "The existing 50W LV halogen market is enormous and waiting to be transformed to attractive LED solutions that come with quick pay back times. The Fortimo LED Integrated Spot Gen 2 dimmable module can be connected directly to the mains and is an efficient and affordable solution.The integrated system means that no external driver is required. No extra costs, no additional installation time and space needed, and no compatibility issues. This makes life easy and allows a fast time-to-market."
The integrated spot can be fitted in recessed, ceiling, wall surfaced and suspended fixtures in environments varying from hospitality, retail to residential. Low maintenance costs and reduced energy consumption make it an ideal LED module for commercial spaces – such as hotel lobbies, reception areas, bars and elevators where lights are on for many hours per day (lifetime increased to 50K hours in Gen2) and low maintenance is key.
The Fortimo LED Integrated spot is commercially available. For ordering please contact your local Philips OEM account manager. More details regarding this product can be found at www.philips.com/fortimo and to experience the Fortimo LED integrated spot Gen 2 visit http://www.youtube.com/watch?v=P5GrPzpsCTA
Small numbers of samples for testing and design-in purposes can be ordered via the Philips Technology web shop: http://oemwebshop.philips.com
About Royal Philips Electronics
Royal Philips Electronics (NYSE: PHG, AEX: PHIA) is a diversified health and well-being company, focused on improving people's lives through meaningful innovation in the areas of Healthcare, Consumer Lifestyle and Lighting. Headquartered in the Netherlands, Philips posted 2012 sales of EUR 24.8 billion and employs approximately 118,000 employees with sales and services in more than 100 countries. The company is a leader in cardiac care, acute care and home healthcare, energy efficient lighting solutions and new lighting applications, as well as male shaving and grooming, home and portable entertainment and oral healthcare. News from Philips is located at www.philips.com/newscenter.
Contact
Astrid Jacobs Philips OEM Lighting Sources & Electronics
E-mail:Astrid.jacobs@Philips.com
Web Site:www.philips.com/newscenter