High power LP6 RGB LEDs from Cotco
Feb 17th, 2005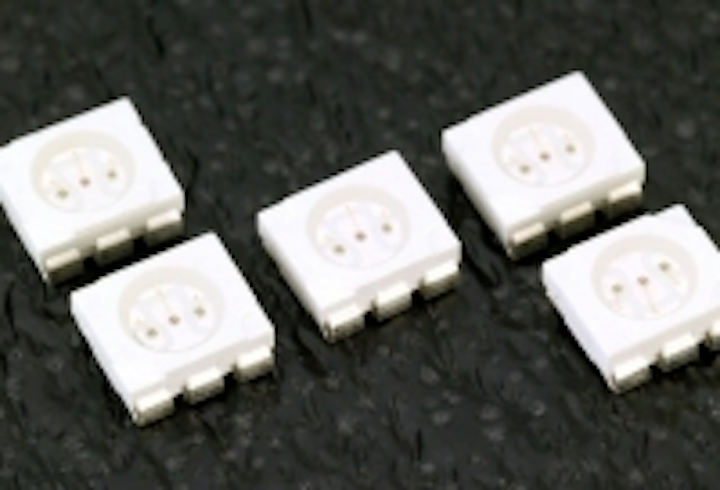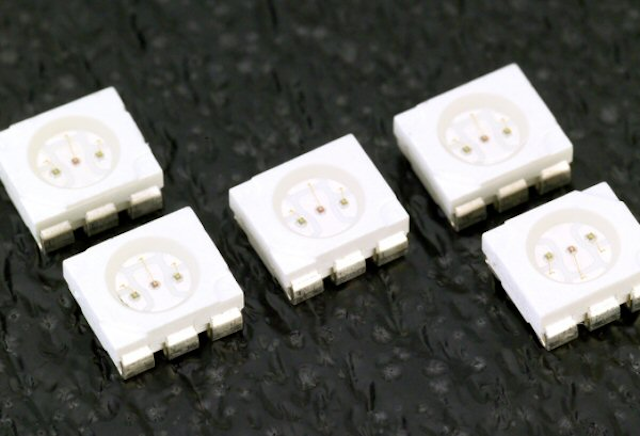 Date Announced: 17 Feb 2005
Marktech Optoelectronics announced the availability of its versatile LP6-TPP1-01 6-Lead, RGB solid-state light source from Cotco. This high-power RGB LED features a 120º viewing angle in a 6.0 x5.0mm surface-mount package designed specifically for accent and color-changing lighting applications.
The LP6 Series Surface Mount is a highly reliable, low-cost solution where space is an issue. The LP6-TPP1-01 can be tightly arranged on a single plane which results in an even distribution of color and light.
The LED also features close chip density and brightness for excellent color mixing. Its 6 pin SMT package allows for individual control of each red, green and blue chip. This creates an opportunity for users to produce a complete color spectrum to better achieve specific and more uniform lighting architecture.
The LP6-TPP1-01 offers a low thermal resistance of 130º C/watt for increased package efficiency and improved heat dissipation, allowing the LED to be driven up to 3X harder then a standard full color SMT package. By allowing individual control of each chip along with the LEDs improved efficiencies and output, designers can save additional power usage on their total lighting system to decrease overall operating costs.
The LP6 Series RGB SMT is ideal for use in a number of accent and entertainment lighting applications that require color-changing LEDs. The rich colors possible with this versatile product also make it perfect for use in video display walls and liquid crystal display (LCD) backlighting.
Additional applications for the LP6 RGB SMT include multi-color backlighting where space is a premium, portable equipment, camera phone flash, light pipes, full color signboards, decorative lighting, general indicators, and amusement equipment.
Features
• 5.0 x 6.0 x 2.5 mm Package
• Wave and Reflow Solderable
• Incorporates AlGaInP and InGaN Technologies
• High Operating Temperature Range: -40º ~ +100º C
• Thermal resistance of 130º C/watt
• 120º Viewing Angle
• Luminosity of up to 1800mcd – Red, 1800mcd – Green, and 450mcd - Blue @ 50mA
Pricing and Availability
Pricing for the LP6-TPP1-01 is $1.68 in 10K lots with free samples currently available.
Contact
Marktech Optoelectronics Latham, NY Tel. +1 (800) 984-5337 FAX: (518) 785-4725
E-mail:info@marktechopto.com
Web Site:http://www.marktechopto.com