Hot new SpiceLED from Dominant spices up auto interiors
May 11th, 2005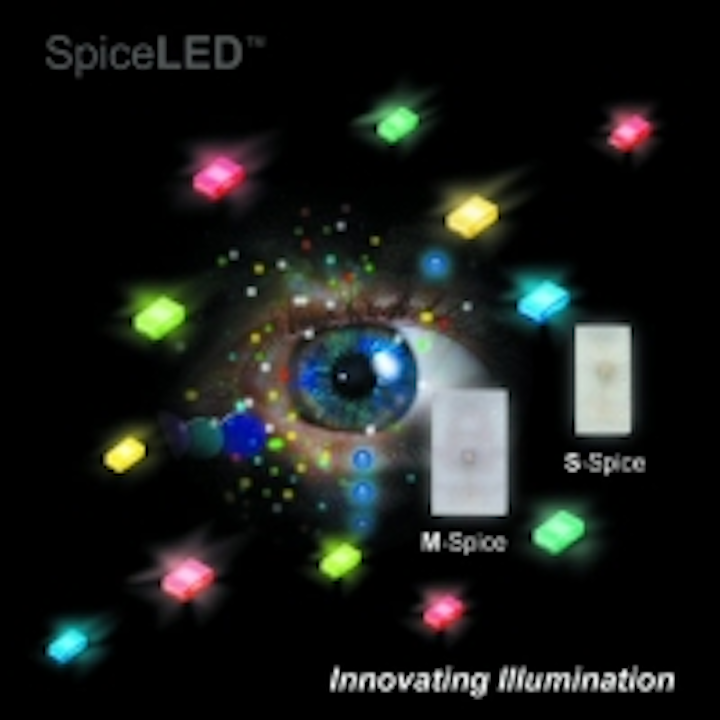 Date Announced: 11 May 2005
High brightness diffused surface mount LED, Super wide viewing angle of 160°
As LED performance improves, innumerable applications continue to emerge. Dominant Semiconductors Sdn. Bhd. is a dynamic Malaysian Corporation that is among the world's leading SMT LED manufacturers, announced the release of high brightness new SpiceLED light emitting diodes (LEDs) in order to spice up the innovating lighting solutions for automotive interiors lighting.
This miniature device comes with two different package outlines, which are compatible with the industry-standard 0805 (M-Spice) and 0603 (S-Spice) package outline with the 0.6mm height only. Furthermore, the smallest size yet powerful performance and highly reliable design LEDs have super wide viewing angle of 160° and enhanced thermal dissipation capability via copper lead-frame. The LEDs consist of a copper lead frame base and are encapsulated with high temperature resistant epoxy resin. The soldering leads are gold (Au) plated and all other materials used in the assembly are lead (Pb) free. This device is also designed and qualified for lead (Pb) – free solder processes.
SpiceLED was qualified according to JEDEC moisture sensitivity Level 2. However, current strife test results indicate that the package is capable to withstand even better levels. The mass production platform of this device is based on the "leadless" technology and it is the first to adopt such technique for LEDs. One of the key advantages of this package is that the LEDs are rated with a high operating temperature range of -40°C to 100°C. The copper lead-frame enables the LED to be driven at such demanding temperature.
SpiceLEDs are available in Green (570nm), Blue (470nm), Super Red (632nm), Red (625nm), Orange (605nm), Yellow (587nm) and True Green (525nm) typical feature luminous intensity of 35.5mcd, 45.0mcd, 56.0mcd, 71.5mcd, 90.0mcd, 90.0mcd and 180.0mcd respectively at forward current of 20mA.
SpiceLED not only spice up the lighting solutions for automotive interiors, it also including key-pad illumination, hand-held devices, such as PDAs, notebooks, compact back-lighting applications, consumer appliances, office equipment, audio and video equipment. With this miniature product yet powerful, spice up your next project with Dominant's hot new LEDs!
About Dominant Semiconductors
Dominant Semiconductors is a dynamic Malaysian Corporation that is among the world's leading SMT LED Manufacturers. An excellence – driven organization, it offers comprehensive variety of product range and selection for diverse industries and applications. Featuring an internationally certified quality assurance acclaim, Dominant's extra bright LEDs are perfectly suited for various lighting applications in the automotive, consumer and communications as well as industrial sectors. With extensive industry experience and relentless pursuit of innovation, Dominant with its state-of-art manufacturing, research and testing capabilities has become a trusted and reliable brand across the globe. Dominant is a QS 9000 and ISO9001 certified company.
Contact
Dominant Semiconductors Lot 6, Batu Berendam, FTZ, Phase III, 75350 Melaka Malaysia Tel: +60 (06) 2833566 Fax: +60 (06) 2830566
E-mail:sales@dominant-semi.com
Web Site:http://www.dominant-semi.com