BivarOpto introduces subminiature quad level light pipe
May 11th, 2005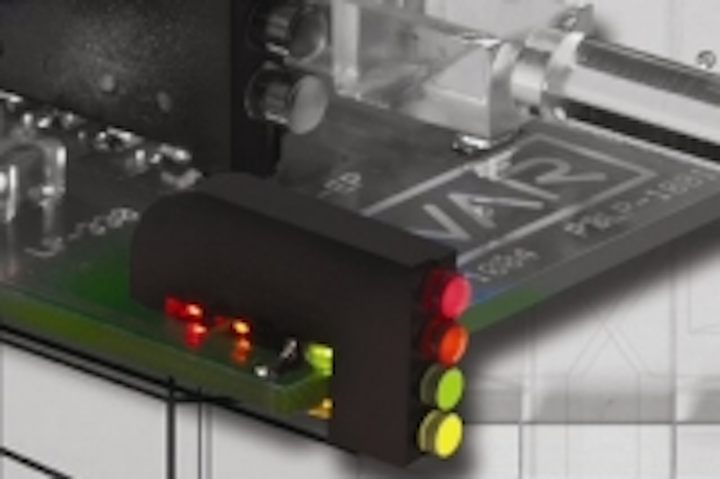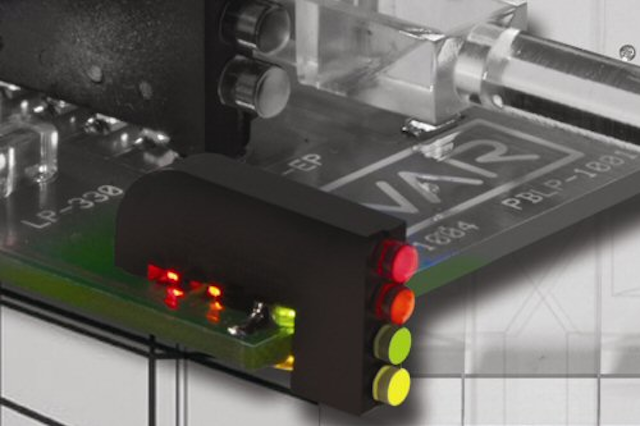 Date Announced: 11 May 2005
BivarOpto™, The Optoelectronics Division of Bivar, Inc., announces the introduction of an all-new, quad-level light pipe that incorporates the use of SMT LEDs on both sides of printed circuit boards. The design specifically addresses use in Advanced TCA (Advanced Telecom Compute Architecture - aTCA) and compact PCI (cPCI) mezzanine cards, breaking previously experienced size and height barriers, and is anticipated to find its way into a wide variety of applications where space is at a premium, yet multiple messaging and complex status indication is required.
The new aTCA light pipe (shown in foreground) is the first light pipe that allows designers to take advantage of both sides of the printed circuit board (PCB). The PCB is populated with two industry-standard right angle SMT LEDs, like Bivar's SMR series, and two industry-standard SMT LEDs. The right angle SMT LEDs illuminate the lower two light pipe positions on the quad level assembly. The top two light pipe positions within the assembly align with traditional SMT LEDs in either 0603 or 0805 packages.
This innovative footprint allows for a quad-level indicator in less than 0.5" of front panel space allowed for use in aTCA and compact PCI (cPCI) mezzanine cards. There currently is no other solution recognized by PICMG for incorporation of 4 indicators in a single light pipe within the front panel envelope and PCB footprint for the aTCA specification. These products are all manufactured Pb Free, in compliance with RoHS material and processes, meeting global regulations for environmental responsibility.
Anthony Vilgiate, Vice President, noted, "This new quad-level design addresses the existing needs of aTCA and cPCI designers to place four separate indicators within the confines of a mezzanine card. The ability to add LEDs on both sides of the PCB at minimal cost, while providing uniform, multiple indicator displays will change how front panel design is approached". He further stated, "We are experiencing several major OEMs requesting custom light pipe configurations as they realize the cost-savings and flexibility of use of advanced light pipe technology."
The aTCA Series light pipe is priced from under $1.00 each in production quantities and is immediately available from stock from Bivar's worldwide network of Distributors. Contact factory for custom requirements.
Contact
Bivar, Inc., 4 Thomas, Irvine, CA 92618-2593 Tel: (949) 951-8808 Fax: (949) 951-3974
E-mail:Info@Bivar.com
Web Site:http://www.bivar.com