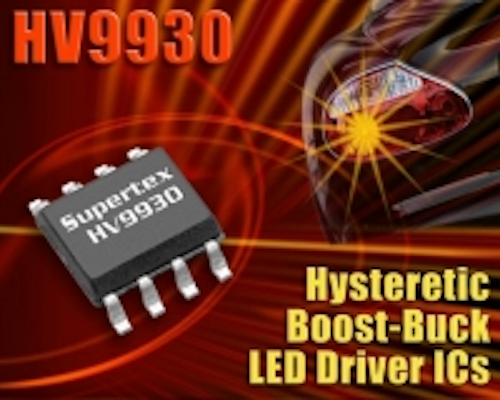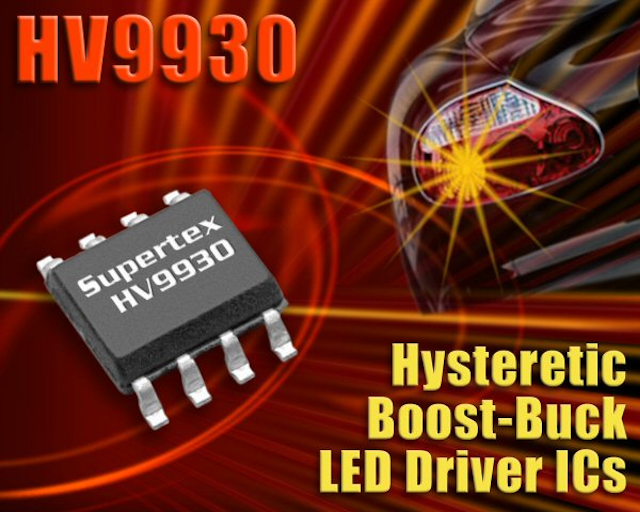 Date Announced: 18 May 2005
Supertex, Inc. (NASDAQ: SUPX) has introduced the HV9930, a variable frequency PWM controller integrated circuit (IC) designed to control an LED lamp using a low noise boost-buck topology, which automatically steps up and steps down the input voltage.
The HV9930 uses patent-pending hysteretic current mode control to regulate both the input and output currents, enabling fast transient response without the need for complex loop compensation and external components.
With a wide DC input range of 8V to 200V, the HV9930 is ideal for automotive LED lighting and RGB backlight applications for LCD televisions and monitors. Input and output current control provides inherent protection against a short circuit and capacitive isolation of the boost-buck topology protects the LED lamp from failure of the switching MOSFET.
"The HV9930 offers designers an efficient, low parts count solution that automatically steps up or steps down LED output voltage," states Ahmed Masood, Director of Marketing for Supertex. "This product further strengthens Supertex's leadership position in the LED driver market and exemplifies our commitment to delivering innovative, efficient design solutions to our customers."
HV9930 provides PWM dimming capability with a duty cycle ratio of 0-100%. LED lamp drivers based on the HV9930 can achieve efficiency in excess of 85%.
The HV9930 is available in an 8 Pin DIP package (HV9930P) and in an 8 Pin SOIC package (HV9930LG). Lead-time for production quantities is 4-5 weeks ARO. Pricing is US$0.87 each for the HV9930P and US$0.91 for the HV9930LG in 1K quantities.
Contact
Ken Vickers Marketing Communications Manager 408/222-4810
E-mail:kennethv@supertex.com
Web Site:http://www.supertex.com