ROHM ICs drive CCDs and LEDs in mobile phones
May 9th, 2005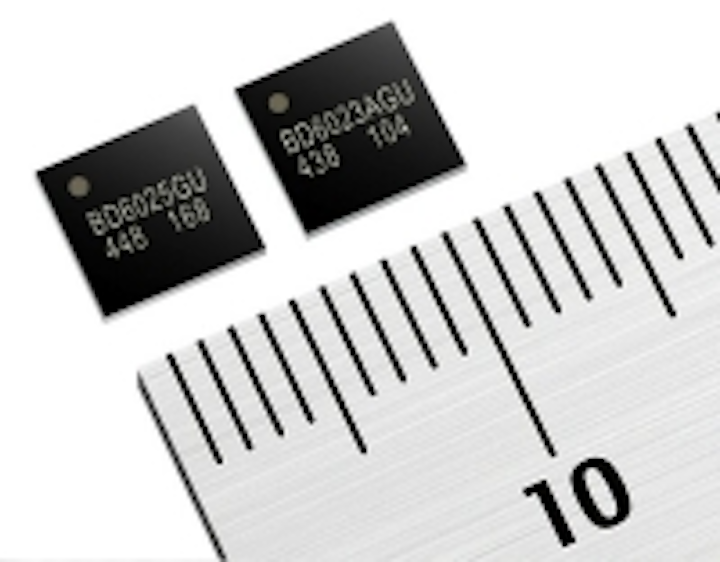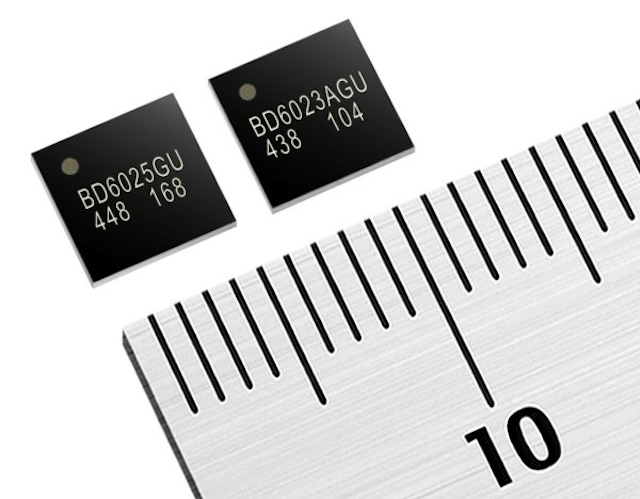 Date Announced: 09 May 2005
ROHM's BD6023AGU and BD6025GU series of system power supply ICs are designed for use in mobile phones to drive both CCD sensors and LEDs for display backlights.
A chopper-scheme voltage booster circuit in the power source allows it to respond to an increased load current caused by increasing pixels.
Both series balance high performance and low power consumption and are offered in a compact VCSP85H5 (5.5mm x 5.5mm) package.
In comparison with existing technology, the VCSP85H5 package is 36% smaller. Using this IC results in a reduction in the number of internal components in the mobile phone by 52%.
Samples of these items are available. Prices are $6.50 (BD6023AGU) and $5.00 each (BD6025GU). Prices are for a minimum purchase of 2500pcs. Lead time is 8-10 weeks ARO.
BD6023AGU
CCD Plus voltage: Switchover between 15V/13V enabled
CCD Minus voltage: Switchover between −8V/−7.5V/−7V enabled
DSP I/O Voltage: Switchover between 3.0V/3.1V enabled
DSP Core Voltage: Switchover between 2.5V/1.8V enabled
Backlight LED Driver: 3 Ch (max 30mA/Ch)
RGB or Flash LED Driver: 3 Ch (max 150mA/Ch), maximum of 450mA current drive
Package: VCSP85H5 (5.5mm × 5.5mm) compact size chip package (Actual package size is 36% smaller than existing technology and its usage reduces the number of internal components required by 52%.)
Other features:
• Compatible with high-pixel CCD cameras with 2M pixels or more.
• Offers multiple output power levels, thereby accommodating various CCD cameras.
• CCD power supply (4 channels)
• Fixed current driver for focus
• White LED driver for main LCD backlight
• White LED driver for sub LCD backlight
• RGB LED driver that can also be used for flash
BD6025GU
CCD Plus voltage: Switchover between 15V/13V/12V enabled
CCD Minus voltage: Switchover between −8V/−7.5V/−7V enabled
DSP I/O Voltage: Switchover between 3.0V/3.1V enabled
DSP Core Voltage: Switchover between 1.2V/1.8V enabled
Backlight LED Driver: 2 Ch (max 30mA/Ch)
RGB or Flash LED Driver: 3 Ch (max 150mA/Ch), maximum of 450mA current drive
Package: VCSP85H5 (5.5mm × 5.5mm), compact size chip package
Other features:
• CCD power supply (4 channels)
• Offers multiple output power levels, thereby accommodating various CCD cameras
• White LED driver for main LCD backlight
• White LED driver for sub LCD backlight
• RGB LED driver that can also be used for flash
Contact
ROHM Electronics Tel. +1 888-775-ROHM
E-mail:jpontious@rohmelectronics.com
Web Site:http://www.rohmelectronics.com