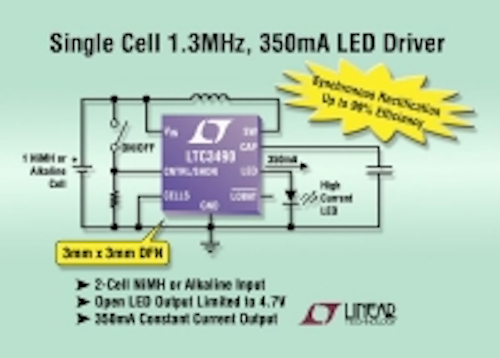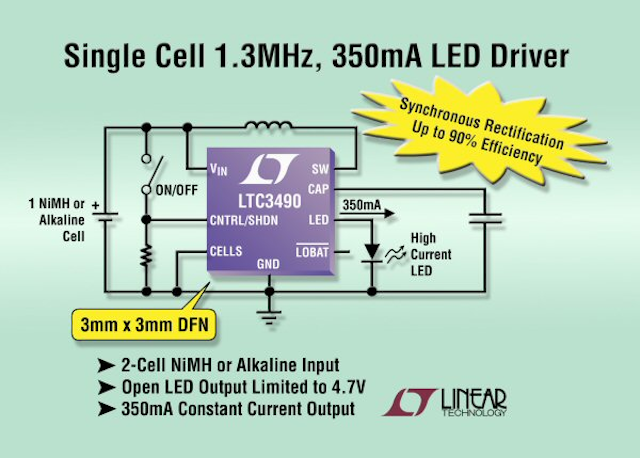 Date Announced: 17 May 2005
Linear Technology announces the LTC3490, a synchronous boost DC/DC converter optimized for driving high current white LEDs. The LTC3490 operates at up to 90% efficiency, maximizing battery run time while its input voltage range of 1V to 3.2V enables it to deliver up to 350mA from either a single or dual cell alkaline/NiMH battery.
Its output voltage range of 2.8V to 4V is fully compliant with the forward voltage requirements of high current LEDs. The LTC3490 provides constant current drive for LED applications requiring up to 1 watt of power. Its 3mm x 3mm DFN package (or SO-8) and 1.3MHz switching frequency offer a tiny solution footprint for handheld applications.
When the LTC3490's output load is disconnected, it limits the output voltage to 4.7V, providing enhanced system reliability. Onboard analog dimming capability reduces the LED drive current proportionally to the CTRL/SHDN pin voltage.
A low-battery logic output signals when the battery voltage has dropped below 1V, and at 0.85V/cell, its undervoltage lockout circuit shuts down the LTC3490 for added protection. The LTC3490 offers the most compact 1 watt LED driver solution for portable lighting and rechargeable flashlight applications.
The LTC3490 is available from stock in either a 3mm X 3mm DFN or SO-8 package. Pricing starts at $2.10 each for 1,000-piece quantities.
Summary of Features: LTC3490
• 350mA Constant Current Output
• 2.8V to 4V Output Compliance
• 1- or 2-Cell NiMH or Alkaline Input
• Synchronous Rectification: Up to 90% Efficiency
• Fixed Frequency Operation: 1.3MHz
• Low Quiescent Current: <1mA
• Very Low Shutdown Current: <50µA
• Open LED Output Limited to 4.7V
• VIN Range: 1V to 3.2V
• Dimming Control
• Undervoltage Lockout to Protect Batteries
• Low Profile (0.75mm) 3mm x 3mm Thermally Enhanced 8-Lead DD and SO-8 Packages
Contact
Doug Dickinson, Media Relations Manager Linear Technology Corporation 1630 McCarthy Boulevard Milpitas, CA 95035-7417 Tel. +1 408-432-1900
E-mail:ddickinson@linear.com
Web Site:http://www.linear.com