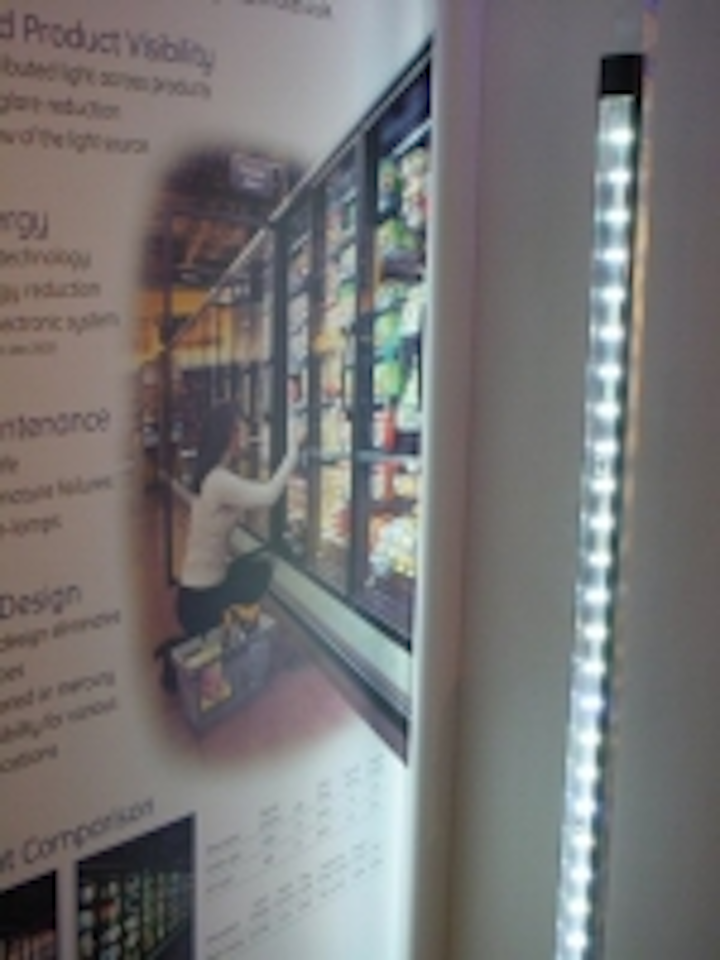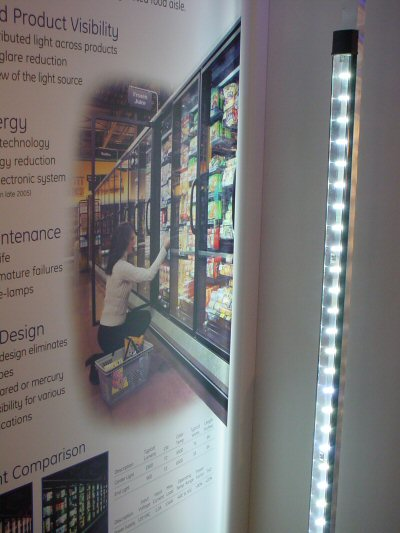 Date Announced: 25 Apr 2005
A newly available, patent-pending LED Refrigerated Display Lighting solution from GELcore, LLC, enables grocery and convenience stores to cast a more uniform level of GE-quality light across the face of products being sold in a variety of low- and medium-temperature reach-in door merchandisers.
In addition to providing greater product visibility with up to three times the light-level uniformity of traditionally used fluorescent lamps, the LED Refrigerated Display Lighting solution nearly eliminates light-source glare on store floors and packaging by efficiently directing light to where it is truly needed. Due to its efficiency as a light source, the GELcore LED solution makes these advances while providing fewer lumens than fluorescent lamps.
The LED Refrigerated Display Lighting solution features a longer rated life—up to 50,000 hours vs.13,000 to 18,000 hours for fluorescent lamps—that reduces maintenance hassles and costs. With the GELcore LED solution, re-lamping would occur every 6 to 10 years instead of the 2-year cycle time that is typically associated with fluorescent lamps.
"Our LED Refrigerated Display Lighting solution improves product merchandising on a number of fronts," says Melissa Wesorick, GELcore product manager. "We focus consumers on products by offering greater light-level uniformity, cutting annoying glare on floors and making merchandiser-display light sources invisible to shoppers. On top of these benefits our solution offers GE reliability, saves energy, reduces maintenance costs and, with its low profile, often makes room for more product in merchandisers."
Additional advantages of the LED Refrigerated Display Lighting solution include:
• reduced maintenance with fewer lamp failures before scheduled re-lamping;
• smaller LED fixture footprint improves loading access, makes room for more products on shelves and increases case configuration options;
• robust, impact-resistant and UL-approved with no glass to break, no IR or UV light and no mercury;
• energy savings with dimming and cycling capabilities that are not usually recommended for T12 or T8 fluorescent lamps.
The LED Refrigerated Display Lighting solution offers a color of 6500 CCT and color-rendering index of 72.
Contact
GELcore Tel. +1 216 606-6555
E-mail:kim_freeman@ge.com
Web Site:http://www.gelcore.com