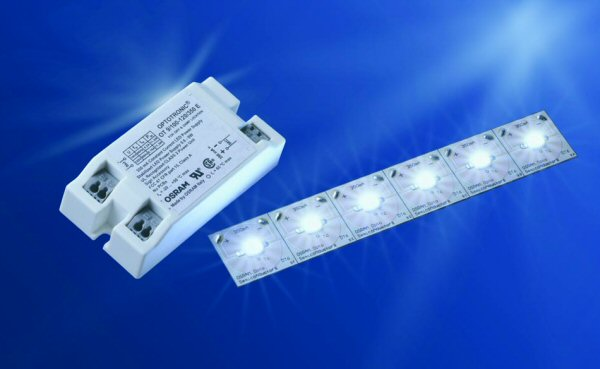 Date Announced: 15 Apr 2005
OSRAM SYLVANIA is rapidly bridging the gap between the requirements of white light illumination and the capabilities of LED technology with their introduction of the DRAGON family of hi-flux LED modules. Both the DRAGONtape® and the DRAGONpuck® modules provide new choices for illuminating a range of spaces.
With the DRAGON family, OSRAM SYLVANIA takes the color consistency of white LED modules to a new level. The DRAGONtape and DRAGONpuck LED modules will be available in three color temperatures for white light – 4700K, 5400K and 6500K. All three choices provide a color rendering index (CRI) greater than 80.
For general lighting applications, this translates to better color consistency from LED to LED. It also provides the end user with the flexibility to select the appropriate white light for each specific application. Both the DRAGONtape and DRAGONpuck modules have a service life up to 50,000 hours when their temperature is maintained at 40°C.
"The DRAGONtape and DRAGONpuck products are a major step forward in the process of making LEDs more accessible to architectural and general illumination markets," said Sameer Sodhi, product group marketing manager for LED systems at OSRAM SYLVANIA. "The level of brightness and clear, white color we are able to produce with this system sets a new benchmark for products, and the system flexibility is unmatched in the lighting industry."
DRAGONtape LED System
The DRAGONtape system packages bright LED light sources in an extremely flat module, enabling the design of smaller, sleeker and more innovative luminaires. The product features flexible tape with an adhesive backing, making the installation process simple and easy to use.
The OSRAM DRAGONtape LED system uses six OSRAM Opto Semiconductors Golden DRAGON™ LEDs connected in series and spaced one inch apart. All six LEDs can be utilized, or the module can be cut and sub-divided into units of one to five LEDs. The entire module can be powered by one constant-current power supply.
The modules operate on special constant-current power supplies, available in AC-DC format for standard lighting applications, or DC-DC format for specialty applications such as certain batteries and transportation vehicles. The DC version offers the additional flexibility of dimming the DRAGONtape LEDs from 100 percent to zero.
The OSRAM OPTOTRONIC® constant current power supply has been designed to match the DRAGONtape modules and the entire system is covered by a comprehensive LED system warranty.
The versatility of the DRAGONtape system is a key selling point, as it lends itself to a variety of commercial and residential applications. The DRAGONtape system is perfect for under cabinet lighting, outdoor/landscape lighting, edge lighting, refrigerated and freezer display case lighting, and vehicle cabin lighting in RVs, boats and airplanes.
DRAGONpuck LED Module
The OSRAM DRAGONpuck modules are more efficient than incandescent or halogen light sources with a similar luminous intensity, and the sleek, innovative light sources are also designed for compact fixtures. The compact DRAGONpuck light sources come with an on-board optic for spot-lighting applications, and their white light has a luminous intensity of up to 285 candelas.
One DRAGONpuck module consists of three OSRAM Opto-Semiconductors Golden DRAGON hi-flux LEDs mounted on a metal substrate circuit board and an optical lens, and comes pre-wired with polarized wires for easy installation. The modules can be operated using the OSRAM OPTOTRONIC constant current power supply.
The DRAGONpuck modules offer bright and intense light for spotlighting applications such as landscape lighting, display shelves, under cabinet lighting, reading lights and countless other general illumination applications.
Contact
Katie Pontius OSRAM SYLVANIA 978.750.2895
E-mail:katie.pontius@sylvania.com
Web Site:http://www.sylvania.com