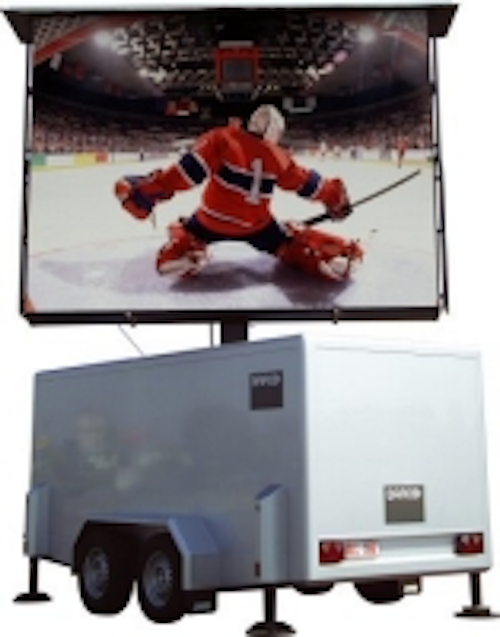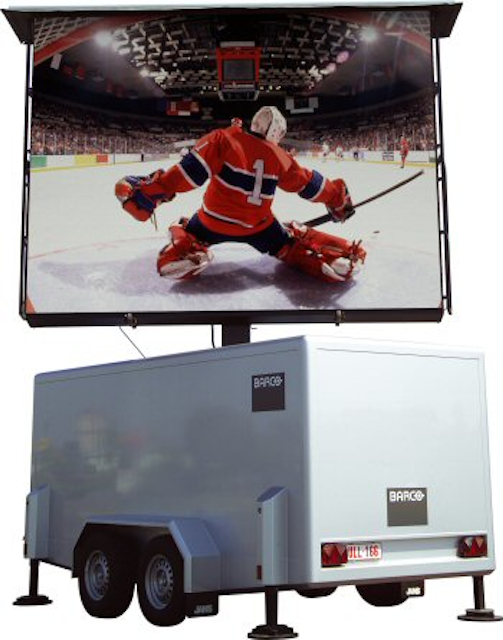 Date Announced: 05 Jul 2005
Barco, an industry leader in professional visualization today launches a mobile, self-contained outdoor LED solution, which incorporates a rotatable nine square meter LED display mounted on a trailer.
Barco's new B-10 is a cost-effective mobile LED solution incorporating Barco's well-known SLite 10 outdoor LED technology, which is aimed at bringing the 'wow' factor of an LED display to any event, large or small. From football matches or cycling tours to outdoor concerts and company events, the B-10 is a multipurpose display solution that can be used to play any type of video or data content, including play back live footage or show advertising and promotional messages.
The B-10 works in accordance with the 'drive and play' principle. Drive to the event location, pull out the screen, and the show is on in no time. No need for structures or trusses to be built up, no need for technical assistance onsite. As a fully self-contained unit with display, image processor and internal power supply, the B-10 can be set up by one person and can be ready to operate in less than 15 minutes.
With its 360-degree rotatable screen, the B-10 can also easily be positioned or repositioned throughout an event to face the audience, regardless the setting. In addition, the B-10 has an adjustable tow-bar, which allows it to be used with any car or truck with a towing capacity of 3,5 ton and above.
As a cost efficient, self-contained mobile LED display solution, Barco's B-10 offers all companies – large or small – the opportunity to own their own LED screen. Its mobile nature allows the screen to be used at any type of event at any time. Short set-up and tear down times allow the user to maximize the utilization rate of the B-10, ensuring optimum return on investment.
Barco's specialized visualization solutions targeted at the needs of the Media & Entertainment industries are used at high profile events and venues. Barco counts names such as U2, Ferrari, Louis Vuitton, Madonna and Daimler Chrysler, Clearchannel Spectacolor, as well as installations for Merrill Lynch, Kinepolis, China Film Group, Bank of America, Deutsche Bank, Reliant Park Stadium (USA) and Miami Heat NBA amongst some of its key references.
Contact
Marleen Awouters Marketing Manager EMEA/APAC, Barco Media & Entertainment Tel: +32 56 368 691
E-mail:marleen.awouters@barco.com
Web Site:http://www.events.barco.com