NeoPac sets new standard with 500 lumen LED lighting
Jul 5th, 2005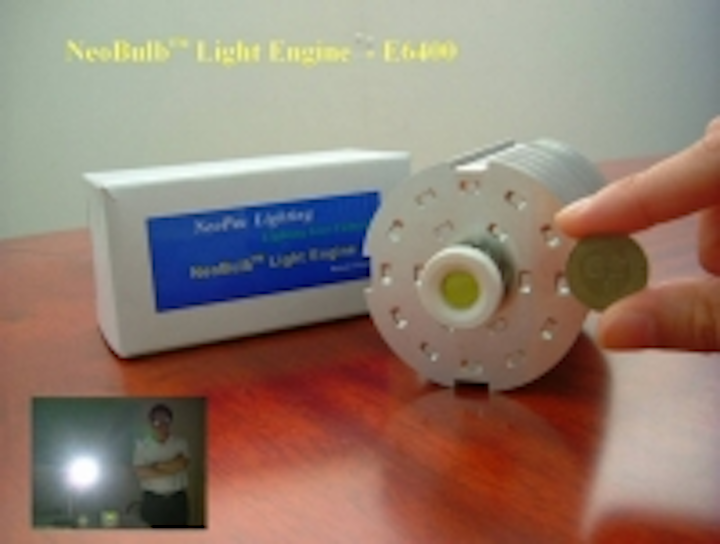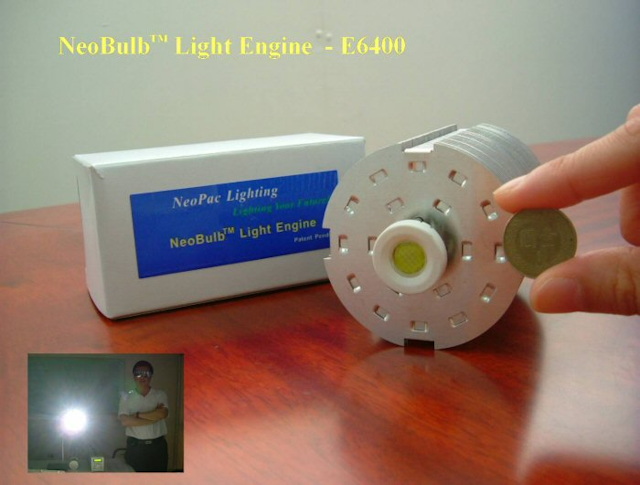 Date Announced: 05 Jul 2005
As the leader for innovative advances in the opto-electronics industry, NeoPac Lighting, Inc. has once again set a new standard for LED brightness output with its single-packaged point-light-source NeoBulb™ Light Engine at 500 lumen.
Always at the forefront of LED technology breakthrough, NeoPac Lighting had held the world record for LED lighting back in June with the 300 lumen NeoBulb™ at the Opto Taiwan 2005 Show.
Now NeoPac Lighting pushes single-packaged LED brightness output to an even higher level, with another new world record for its LED NeoBulb™ Light Engine at 500 lumen.
*****
Capturing the attention of international LED industry, the revolutionary chip-platform-technology System-In-Package LED - NeoBulb™ by NeoPac Lighting was an immediate success upon its debut at the Opto Taiwan 2005 Show.
Now NeoPac Lighting has again set the industry standard with its E6400 "NeoBulb™ Light Engine", at even higher brightness output for Single-Packaged, Point-Light-Source LEDs. It has achieved a new world record of 500 lumen, operating at 20 watt power, and therefore is expected to become the next star attraction of the global LED industry.
This innovation coming from NeoPac Lighting is a System-In-Package, Ultra-High-Power, Point-Light-Source LED "NeoBulb™ Light Engine". It integrates the first-level LED packaging and second-level assembly process to create the platform for "NeoBulb™ Light Engine", which is a complete change-over from the regular LED packaging and module design used by most companies.
The revolutionary breakthrough of LED technolgy by NeoPac Lighting not only has pushed the world record of power dissipation for single-packaged LEDs up to higher levels than before (6 to 30 watts), more importantly, it is able to control the LED junction temperature (Tj) under a safety range (<120℃) to assure the LED's long life durability and maintaining its spectral characteristics.
Jeffrey Chen, President of NeoPac Lighting, indicates this new E6400 "NeoBulb™ Light Engine" utilizes current chips technology to assemble 16 (4x4) 1 sq.mm high-power LED chips under high density to confine within a small packaging space (<0.49 sq.cm). (See the Photo)
He says, "Under ultra-high-power of 20 watts, the operating current for the LED chips is 390 mA. Through our ultra efficiency thermal management, the E6400 system thermal resistance (Rja) is only at 3.5℃/W (LEDs Junction to Ambient). Therefore, the E6400 can operate for long period of time at room temperature(Ta=25℃) and its LED junction temperature (Tj) would be well-controlled under 95℃. Even when the ambient temperature is extreme high at 50℃, we can also keep the E6400 LED junction temperature under the safety hurdle at 120℃!"
"Currently those single-packaged high-power LED lighting source on the market can only operate at most on 5 watts, and they need to be set upon a good working heat sink base to ensure its operating safety. We have not yet seen LEDs at higher than 5 watts on the market. The main reason is due to heat resistance in the LED packaging and system assembly, where under ultra-high-power operating conditions, they could not solve the problem of heat dissipation for LEDs," according to Jeffrey Chen.
With NeoPac Lighting coming out with "NeoBulb™ Light Engine", Jeffrey Chen notes that it is like opening up a wide super highway on crowded traffic-congested roads, and is expected to accelerate the utilization of the present LED chip technology towards more applications in general lighting.
"Not only has our NeoBulb™ technology platform broke the world record of power dissipation for Point-Light-Source LEDs, we have also set the record for luminous flux for Single-Packaged LEDs. More importantly, the highly accurate predictor for increased rate of luminous flux for single-packaged LEDs in the past 30 years, the Haitz Law, would need to be revised," he says.
Jeffrey Chen points out that although 500 lumen is currently the brightest single-packaged Point-Light-Source LED, there is much room for improvement under this technology platform. He wants NeoPac Lighting to work together with top LED chip manufacturers and LED packaging companies, to further develop the NeoBulb™ Universal Platform on the way to realize commercial single-packaged, point-light-source products at over 1,000 lumen.
There are important needs for many applications of Point-Light-Source in the opto-electronic industry (such as digital projectors), and making the single-packaged LEDs with higher luminous flux can greatly reduce the cost of commercial production. NeoPac Lighting's new generation of LED System-In-Package Platform is well protected and has applied a number of patents at various technical levels in several countries around the world.
No matter how the luminous efficiency for LED chips will be improved in the future, the "NeoBulb™ Universal Platform" will be there, like the basic infrastructure for the lighting industry. It is expected to become the best choice in the application of Point-Light-Source LEDs for solid-state-lighting and also for general lighting uses.
Contact
Jeffrey Chen, President, NeoPac Lighting Chu-Bei, Hsinchu County, Taiwan Tel: +886-3-558-3620 ext. 201 Fax: +886-3-558-6909
E-mail:jchen@neopac-lighting.com
Web Site:http://www.neopac-lighting.com