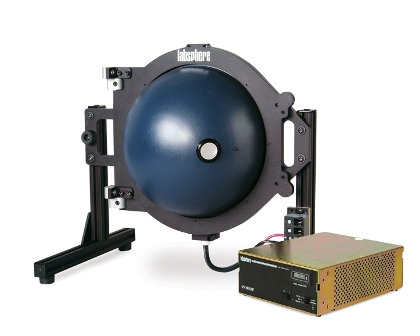 Date Announced: 25 Jul 2005
Aiming to speed and simplify light testing, Labsphere has released a new family of integrating sphere spectral lamp measurement systems that includes the SLMS-1000, SLMS-2000, SLMS-4000, SLMS-6500 and SLMS-7600.
"The Labsphere SLMS systems are the most user friendly and complete spectral measurement sphere photometers on the market." said Greg McKee, Labsphere's Light Metrology Product Manager. "The system is designed to quickly provide complete radiometric, photometric and color results in seconds where traditional scanning instruments took minutes to record." This family is ideal for quickly measuring light sources of all sizes, from LEDs to HIDs.
Speed, accuracy and ease of use are critical in light testing. The SLMS family encompasses all of these benefits. Fast measurements increase the rate of product development, which decreases time to market and reduces development costs.
The accuracy of the SLMS family increases the throughput of QA testing to facilitate improved statistical process control and higher manufacturing consistency for greater product quality. In one click, spectral data is processed by the Windows XP software for precise radiant and luminous flux measurements and color properties including CIE chromaticity, correlated colour temperature, dominant wavelength, purity and colour rendering indices.
The SLMS design conforms to internationally accepted standards, including CIE 84. With NIST-traceable calibration and accurate, spectroradiometric matching to photopic and tristimulus responses, they deliver trusted measurements, even with narrow band sources. This accuracy reduces specification ambiguity, which leads to greater customer satisfaction.
About Labsphere:
Labsphere celebrates 25 years as the leader in innovative light measurement technology. Products include uniform light sources to calibrate imaging devices and camera systems in the visible and IR; light measurement systems for lasers, LEDs, and traditional light sources; and reflectance standards for calibrating spectroscopic measurement systems. Labsphere also provides systems and components to OEMs in numerous industries, including spectroscopy, avionics, laser diode test and measurement, semiconductor, and medical.
Contact
Christina Chase Marketing Communication Manager Labsphere, Inc. 231 Shaker Street North Sutton, NH 03260 USA
E-mail:labsphere@labsphere.com
Web Site:http://www.labsphere.com