Lumileds delivers white LEDs with patented conformal coating
Jul 6th, 2005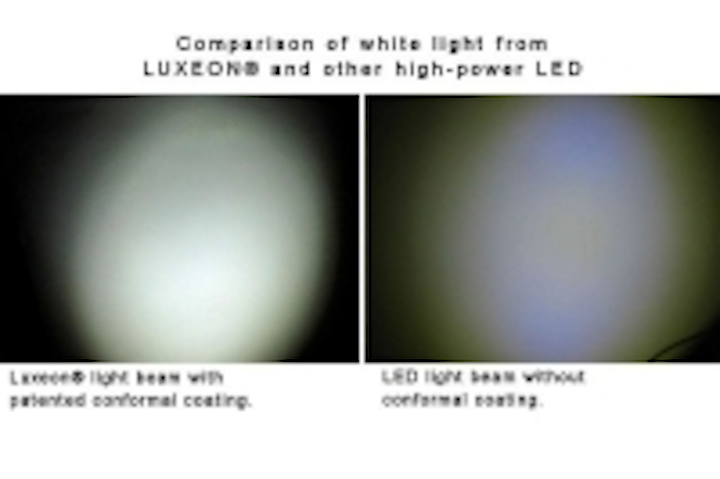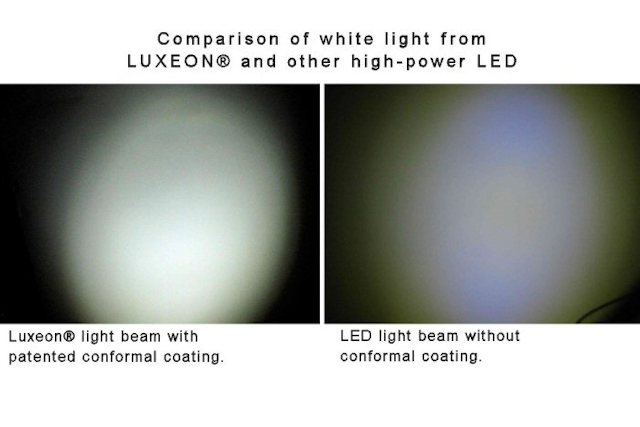 Date Announced: 06 Jul 2005
Luxeon® LEDs from Lumileds Lighting have conquered one of the major challenges to the use of LEDs in general lighting - the wide variation in the colour of white light emitted from a given LED - with a proprietary conformal coating process that delivers the market's only uniformly white solid state light source.
The Luxeon-exclusive coating process ensures that a uniform layer of phosphor is applied to every facet of the Luxeon LED die, eliminating the varying phosphor thicknesses that cause colour inconsistencies within the beam pattern of white LEDs from other vendors.
"We wanted to use high-power LEDs in some of our flashlight products to give our customers the maximum light output along with the ruggedness and longevity of solid-state lighting, but we rejected most white LEDs because of their poor colour quality," said Robert Galli, CEO of Emissive Energy. "Only Luxeon, with its conformal coating process, came up to our standards. Without it, we would not have been able to bring some of our highest-performing products to market."
White LEDs produced with traditional phosphor deposition techniques frequently appear to be yellow on the edges and blue in the center of the beam because of a lack of uniformity in phosphor coverage of the die. This results in a varying mix of emissions from the underlying blue LED and the yellow phosphor-converted photons across the LED package.
Lumileds' patented conformal coating technology utilises special tools and procedures to prevent these colour irregularities by distributing the phosphor at a regulated and consistent thickness over the entire Luxeon chip.
The superior colour uniformity of white Luxeon LEDs compared to other white solid-state light sources is noticeable to the naked eye. It can also be quantified by measuring the correlated colour temperature (CCT) over the entire 180-degree LED viewing angle, since the colour variation in conventional LEDs typically manifests itself as a cooler white in the middle with a warmer white or yellowish ring off axis in the light beam. CCT measurements show that conventional white LEDs have roughly 15 times more colour variation than white Luxeon emitters, severely limiting their commercial usefulness.
"Colour variation in white LEDs has been a barrier to the broad adoption of solid-state lighting in luminaires and other general lighting products because consumers accustomed to conventional illumination are not comfortable with the colour shifts in the light beam of conventional LEDs. This non-uniformity becomes further pronounced with the addition of secondary optics such as reflectors or collimating lenses which are often used in our customers' designs," said Jason Posselt, Lumileds Director of Product Marketing.
"Our conformal coating technology makes white Luxeon LEDs the first and only semiconductor-based light sources with the colour consistency required to compete with the incandescent bulb."
Lumileds' patented coating process adds to other competitive advantages of Luxeon LEDs, including industry-leading light output, temperature tolerance and lumen maintenance.
The Luxeon family comes both as single unmounted emitters and in a wide variety of mounted configurations. Luxeon products are distributed exclusively through Future Electronics (www.lumiledsfuture.com).
Contact
Lumileds Lighting
E-mail:info@lumileds.com
Web Site:http://www.lumileds.com