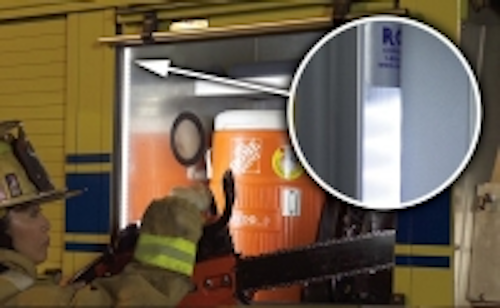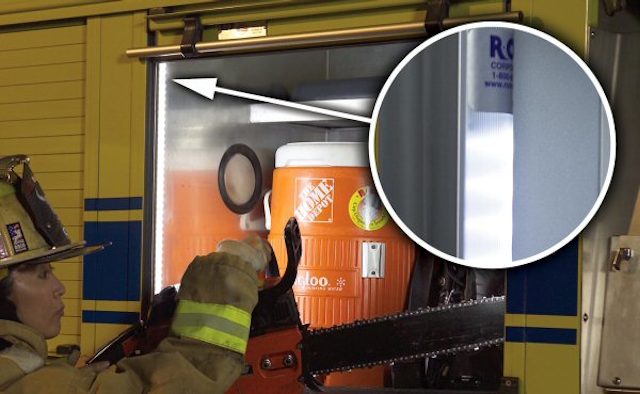 Date Announced: 06 Oct 2005
ROM Corporation has introduced the LED Compartment Lighting System for emergency vehicle compartments. The LED System is available as a stand-alone light bar or can be integrated with the roll-up door track for new or retrofit applications.
The benefits of LED technology are widely recognized among vehicle manufacturers across many industries. For the fire service in particular, LED systems:
* Draw as much as 80% less amps than traditional systems, leaving more power for other critical needs at the scene.
* Have lamps that last up to 100,000 hours, reducing maintenance costs with a system that may last the life of the emergency vehicle.
* Are solid-state with no moving parts or delicate filaments to fail.
* Withstand road vibration better than traditional systems.
"We pride ourselves as the single-source leader in emergency vehicle compartment access," says Steve Briggs, ROM vice president of sales and marketing. "The LED Compartment Lighting System is the perfect complement to our current systems: roll-up doors, wet-paint, door ajar and halogen-based compartment lighting.
"Our LED system brightly illuminates compartments while offering a rugged lighting option that draws less power and can last the life of the vehicle. It's exactly the solution our customers have asked us to deliver."
LEDs are available in 24-lamp, 12-inch sections that connect to one another serially. They operate in a voltage range of 9.3 VDC to 14 VDC with a current draw of 160 mA per section. The light bars are shipped with male and female pigtail harnesses for wiring from either end.
Contact
Steve Briggs ROM Corporation 6800 E. 163rd St. Belton, MO 64012 Phone: 800-827-3692
E-mail:SteveBriggs@romcorp.com
Web Site:http://www.romcorp.com