Para Light adds SMD family of compact LED numeric displays
Oct 12th, 2005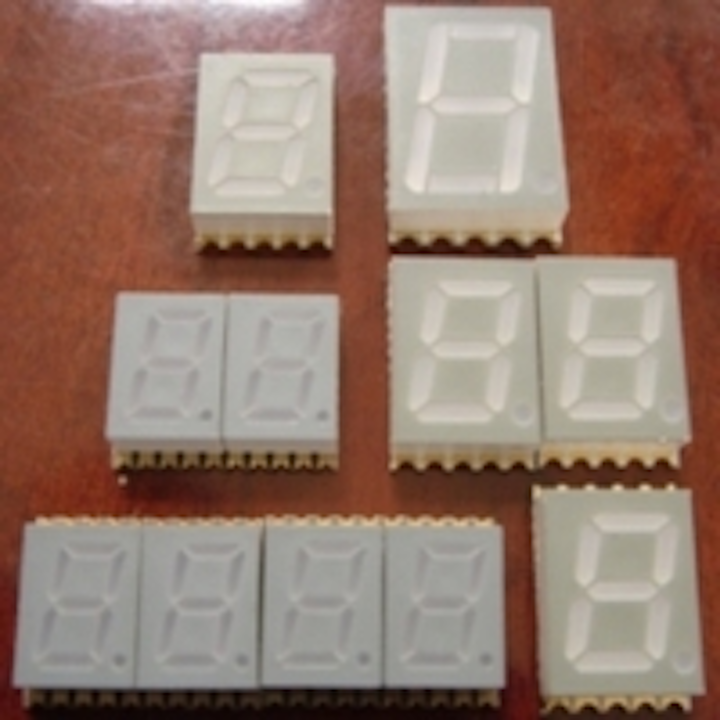 Date Announced: 12 Oct 2005
Para Light Corp., a world leader in providing LEDs to electronics OEMs, has introduced a new family of surface-mount-device (SMD) digital numeric displays in a variety of compact sizes.
The Para Light SMD Display series models come in heights of 0.30, 0.39, 0.51 and 0.56 inches – each model only 0.148 inches thick – with all sizes available in both single- and dual-digit configurations and in common anode and cathode versions. At introduction, the LED displays are offered in green and red.
The SMD Display series features a flat-pad design with inner connections, thus eliminating the need for leads and enabling automatic pick-and-place production and easy mounting on a printed circuit board. Because the units require no manual insertion – like traditional through-hole LEDs – assembly costs are lower.
The displays operate at currents as low as 2 milliamps and meet industrial temperature ratings of -35ºC to +85ºC.
The new SMD Display series is available now, with prices starting at $0.55 and $1.25 each for single- and dual-digit models, respectively. Delivery is 7-8 weeks, and samples are available for qualified customers.
Para Light is a major global provider of high-quality optoelectronic components and a pioneer in LED manufacturing. Founded in 1987 and headquartered in Taiwan, with North American offices in California, the company employs about 1,500 people, including a quality-control staff of 80 and a dedicated R&D staff of 50. Para Light maintains state-of-the-art facilities in both Taiwan and China; is ISO 9002, QS-9000 and TS 16949 certified; and continuously invests in the latest automated equipment to ensure the highest quality and to control the cost of its products.
Contact
Para Light Corp. 515 Spanish Lane, Walnut, CA 91789, USA telephone 909-468-4866 toll free, 877-377-7272 fax 909-468-4876 E-mail: sales@paralight.us
E-mail:rick@paralight.us
Web Site:http://www.paralight.us