32 Channel PWM dimmer and sequencer combined.
Oct 1st, 2005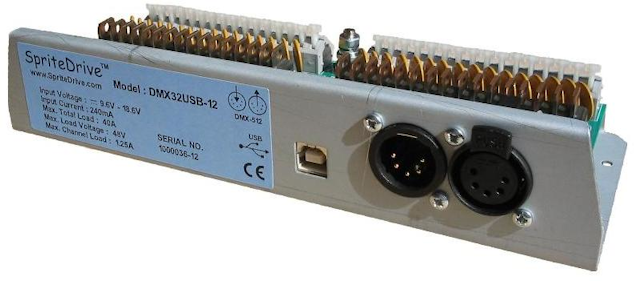 Date Announced: 01 Oct 2005
SpriteDrive announce that by popular demand the DMX32USB now has standalone capability.
Users can download their own sequences via the USB connection. The sequence is then stored in flash memory. When the unit is switched on it automatically runs the sequence. If you need to change the sequence simply download another one. The sequences are full PWM – not just flashing on/off. Since there are 32 outputs you can arrange 30 of them as RGB so giving 10 independent but synchronized full colour triplets.
The downloadable sequence files are generated from "comma separated variable" files using a free utility. The csv files can be generated or edited by your favourite spreadsheet.
There is ample memory. That means that you can have smooth changing colours as well as complex sequences of rapidly changing lights.
You choose. You edit. You download. You leave with your computer. SpriteDrive keeps on going! No separate sequencer to go wrong or go missing!
Ideal for signs as well as architectural and feature lighting.
Ultimate flexibility - if you want to use it as a DMX dimmer simply reconfigure it.
All details on the website.
One last thing. This feature is now standard, no price increase.
Contact
SpriteDrive Unit 2 Diamond Court, Douglas Close Preston Farm Business Park Stockton-on-Tees, TS18 3SB, UK Phone: +44 (0)1642 806911 Fax: +44 (0)1642 605772
E-mail:sales@spritedrive.com
Web Site:http://www.SpriteDrive.com