Lighthouse Technologies reports successful year for LED screens
Dec 19th, 2005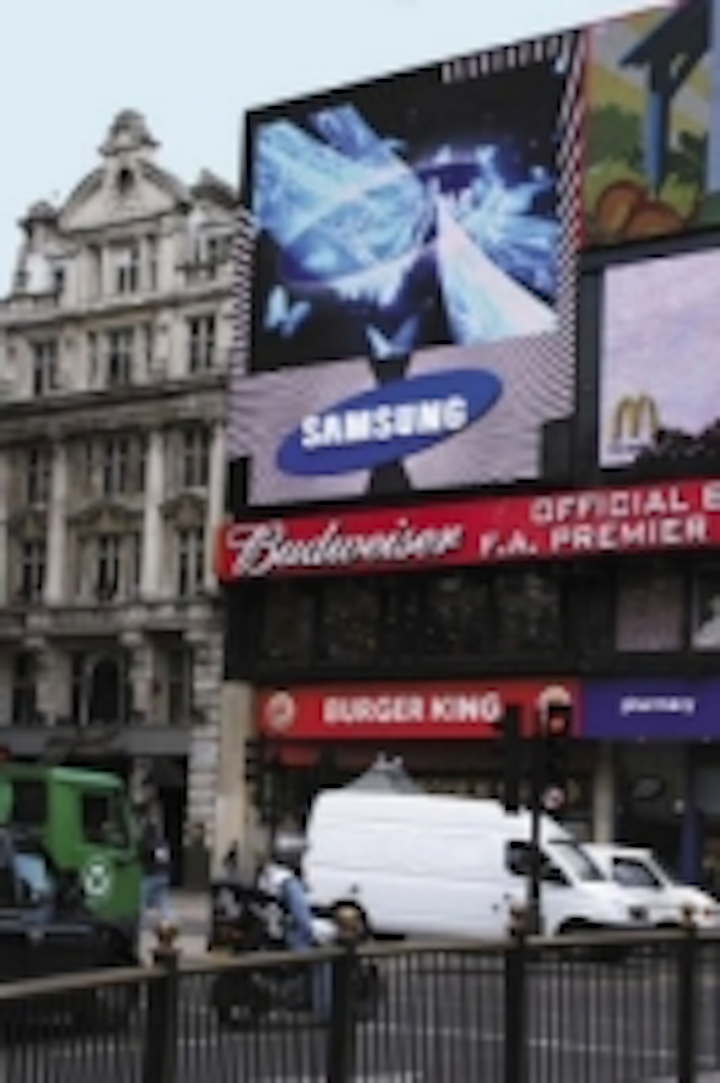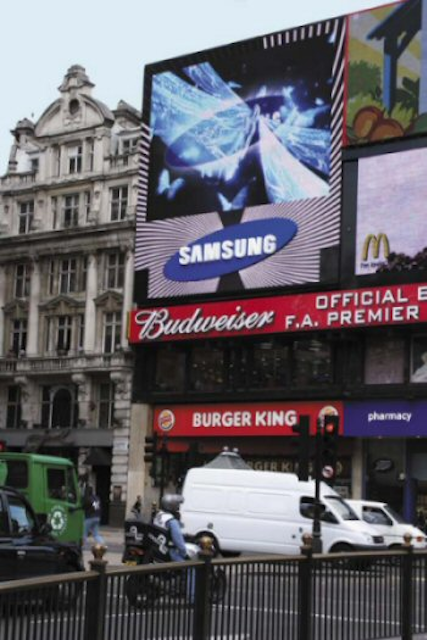 Date Announced: 19 Dec 2005
Hong Kong – Lighthouse Technologies reports a 60% year on year growth in sales for 2005, reaffirming its position as a world leader in the manufacturer of LED screens.
There were many high points to 2005, one of which was the installation a Lighthouse LED screen at Samsung's flagship advertising site in London's Piccadilly Circus (see photo). The 12m x 12m P16 16mm pixel pitch, 5,000 Nits brightness screen had already proven its worth in this location on the Coca Cola site and, with Samsung's position being adjacent, they wanted to have something that was equal in quality.
"This screen has a very high resolution," explains Lighthouse's Northern European sales manger, Simon Taylor who coordinated the project, "the colour rendition is accurate – something that is an extremely important consideration for companies who need to make sure that their corporate identity is precisely rendered – and the downward angled LEDs ensure that there is a perfect viewing angle from street level."
Samsung were keen that the screen should not look like a 'big television', so the lower portion of the screen was cleverly rendered to replicate neon lighting – a form of lighting traditionally associated with Piccadilly Circus – which creates an artistic sculptural feel to the display.
From a highly sophisticated installation by integration company Hecla into Amsterdam's Schiphol airport in The Netherlands to the successful screen in Hong Kong airport, major automotive shows such as Frankfurt and Tokyo, and high profile sporting events including several Grand Prix and the Rugby Sevens in Hong Kong, Lighthouse screens can be seen around the globe. Consistently dominant in both the systems integration and AV markets, Lighthouse became even more prominent in the worldwide rental market when Creative Technology chose Lighthouse screens for Live 8's Hyde Park event.
More recently, leading rental company XL Video joined the Lighthouse fold with a substantial purchase of R16 LED screen, 126 panels of which were immediately seen on Michael Flatley's Celtic Tiger tour in the US and mainland Europe saw significant sales by director of sales for Western and Central Europe, Michiel Hettinga, including Swiss company Winkler's purchase of additional panels of R16 screen to add to their already substantial rental stock and the major investment by leading French video rental company Alabama, who now has an impressive 169 panels of Lighthouse R6 screen, a large proportion of which recently toured with rock/pop band Kyo throughout France, Belgium and Switzerland.
Meanwhile in Southern Europe, under the aegis of director of sales Roberto Segato, a number of new rental partners have been secured. These include Pietra Union in Serbia, Astel/Intersection in Turkey, AV Set in Italy and Miguel Diaz in Spain, as well as existing partner VideoRental in Italy increasing its rental stock to over 400 panels of R6.
Underlining this phenomenal growth in sales, and the recognition of Lighthouse's position as major player in the European market, was the request for Lighthouse's managing director Mark Chan to speak at Red Hot Locations' – the world's leading specialist events and training company in direct investment - Investors of the Future Forum in London in mid-October. This followed his successful participation in their event in Hong Kong earlier in the year and is further emphasised by an additional speaking opportunity in Germany in December.
Other strategic partnerships were formed during 2005. Most notably, in the US Lighthouse and Sony Electronics Inc reached an agreement for Lighthouse to utilise Sony's extensive resources to provide national on-site service programs to Lighthouse's existing and new professional grade LED large screen video customers in North America, whilst Lighthouse's partnership with Christie Digital Systems, who are now their key distribution partner in North America for 2006 allows them to focus on both the rental and staging and fixed installation markets. These alliances came hot on the heels of several new product launches, including PopVision, the industry's first portable, self-contained high brightness LED video screen, as the company continued to meet high demands in the surging digital signage and rental and staging markets.
"Through our key partnerships and diligent work, this year our North America/South America team implemented its strategic plan to revitalize its infrastructure to better support our growing sales and service operation," said Tony Turiello, vice president sales, marketing and operations in the Americas for Lighthouse. "Because of all this work, Lighthouse is stronger than ever in meeting the growing demand of LEDs."
"It's been an incredible year," says Mark Chan. "Lighthouse continues to increase its presence in the European market year on year through a combination of technical excellence and a fantastic team. Our penetration into the global market is steady and we expect to see even better results next year."
Contact
Causeway Chung, Lighthouse Technologies Limited, Suites 531-537, Building 2, Hong Kong Science Park, Shatin, N.T., Hong Kong. Tel: 852 2192 1688 Fax: 852 2423 1062
E-mail:info@lighthouse-tech.com
Web Site:http://www.lighthouse-tech.com