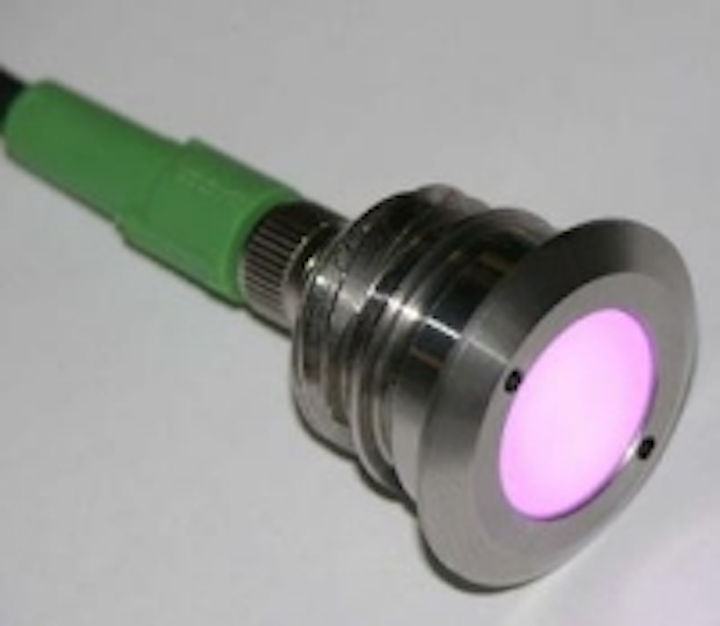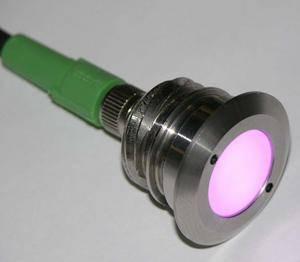 Date Announced: 01 Dec 2005
Macplo - a little gem
Cemm thomé's Macplo recessed LED groundlight has undergone a facelift, and is now not only probably the most compact RGB groundlight in the world, but also one of the easiest to install.
With an external diameter of just 36mm, protruding only 3mm above the ground surface, the Macplo is constructed of stainless teel with a tough scratch-resistant glass lens. With an IP rating of 67, the Macplo can be used both in internal decorative lighting applications, such as pathway and stair lighting, emergency exit route lighting as well as bringing subtle colour-wash effects to walls and pillars, and in external environments including pedestrian precincts, parks and gardens.
The new look Macplo has been designed to make installation as easy to install as possible, and to minimise disturbance to flooring and paving materials. The product is supplied as two separate elements, the groundlight section simply screws into a counterpart connector fitted to the power cable. This allows the installer to fit the luminaires only after all the cabling and ground reconstruction work has been completed, therefore protecting the lights from the usual hazards of a construction site.
The Macplo uses 2 RGB light emitting diodes, which offer a multitude of decorative effects. This enables the lights to be used either in a single permanent colour from an almost infinite pallette, or to produce subtle colour change effects which can be varied according to the exact design requirements of the client. Cemm thomé's own colour management system can be used to enable the client to produce colour scenarios very easily, and also enables the Macplos to be coordinated with other light sources.
Cemm thomé is a specialist technical lighting manufacturer and designs and manufactures a range of LED-based lighting products in France, using only the highest quality LED diodes available. For further information visit our website www.cemmthome.com.
Contact
Cemm thomé 26 avenue de Champabon 77520 Donnemarie Dontilly France Tél. : + 33 (1) 60 58 50 20 Fax : + 33 (1) 60 58 51 10
E-mail:rebecca.atkinson@cemmthome.com
Web Site:http://www.cemmthome.com