LT7 Light Tower provides modular, stackable assembly
Jun 9th, 2005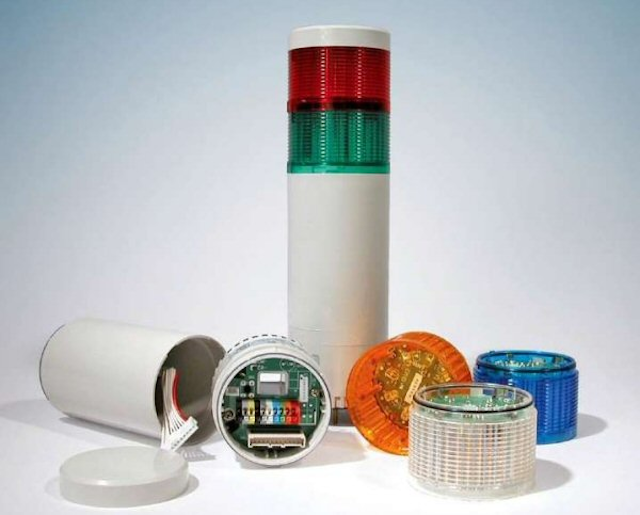 Date Announced: 09 Jun 2005
IDEC Corporation is excited to introduce the new LT7 Light Tower to its SignaLight series. Innovative LED technology combined with a 5-color, modular-style assembly; make these towers a snap to use. It's easy to make changes and modify combinations even after you have the LT7s installed on your machine.
Depending on your requirements, there are 24VDC or 90~250VAC steady and flashing models to choose from. An integrated, audible alarm in the flashing type is also available and offers two user selectable tones. The volume of the alarm can be adjusted manually to reach up to 90dB at 1 meter.
Wiring terminals are located in the base of the light tower. Each terminal is color-coded according to the respective lens color, for easy identification. "Push-fit" locking terminals make the wiring simple, with no need for any tools.
And in keeping with our commitment to quality, the LT7 was designed with the environment in mind. Using lead free components, this product complies with the EU directive 2002/95/EC, which restricts the use of hazardous substances. An IP65 enclosure rating is also standard by means of high-quality O-ring gaskets. The LT7 series is CE marked, as well as UL and c-UL listed.
To top it all off, the LT7 provides intense illumination of lens colors by using a unique, prism design to enhance the brightness of the LED. Even more impressive, the life of these LEDs is over 50 times longer than conventional incandescent bulbs and about 7 times more efficient. The long life of these LEDs drastically reduces maintenance costs associated with labor and parts to replace bulbs, saving you time and money. And with a long-service life of 100,000 hours — that's over 11 years with continuous operation — the LT7 truly does have it all.
Contact
Juan Moreno, IDEC Corporation Tel. 1-800-262-IDEC (4332), ext. 213
Web Site:http://www.idec.com/usa/index.html