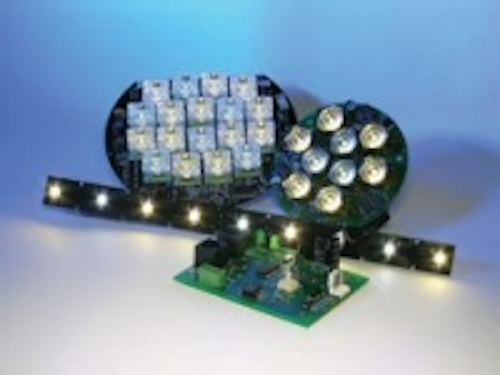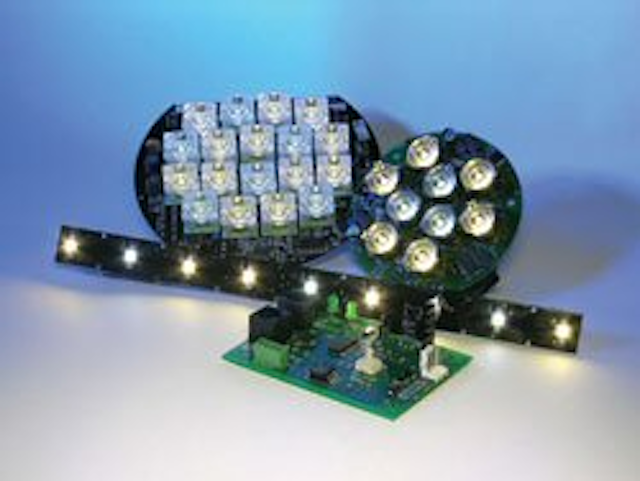 Date Announced: 22 Jun 2005
Expanding its reach in the markets for intelligent white solid-state lighting systems, Color Kinetics Incorporated (NASDAQ: CLRK) has unveiled the industry's first series of intelligent digital light engines (DLEs) for white light applications -- enabling manufacturers to develop complete lighting systems with the advanced feature of color temperature control.
The Series 300 product line is based on Color Kinetics' proven Chromacore® technology and is compatible with its IntelliWhite™ family of power/data supplies and controllers, as well as third-party controllers, making the DLEs easily adaptable to both standard and new fixture designs.
Available today, the first Series 300 offerings provide consistent white light and adjustable color temperature ranging from 3000K to 6500K. They are designed to support a wide variety of applications, from stage and studio lighting to architectural and accent lighting. They include:
DLE C-301 – A circular module designed for use in medium- to large-format PAR systems.
DLE C-302 – A circular module designed for use in small-format PAR systems.
DLE L-301 – A 12" linear module.
PDM-301 – A power/data module that enables dimming and color temperature control of Series 300 DLEs or lamps via Color Kinetics or third-party architectural controllers.
In addition to color temperature control, provided today only by Color Kinetics, Series 300 DLEs extend the inherent benefits of LEDs, including efficiency, long life, durability, and lack of radiated heat and UV emission, to third-party product designs.
They build upon Color Kinetics' comprehensive OEM product line, which now spans core components and subsystems for both white and color lighting applications. For the latter, Series 100 offerings are based on the Chromacore technology platform, while Series 200 supports both the Chromacore and Chromasic™ technology platforms. All OEM product offerings are backed by support, services and the expertise Color Kinetics has gained through nearly eight years of research and development.
"While the many benefits of LEDs are well documented, true industry adoption requires complete lighting systems that are designed, powered and controlled with proven technology. With the launch of Series 300, Color Kinetics is offering a turnkey solution for third-party manufacturers who recognize the tremendous market potential for intelligent white solid-state lighting systems," said Bill Sims, President and COO, Color Kinetics.
"This launch marks another important expansion of our OEM & Licensing business, through which partners can now take advantage of the same industry-first technologies that support our IntelliWhite line."
Contact
Felicia Spagnoli Color Kinetics 617-701-2292
E-mail:fspagnoli@colorkinetics.com
Web Site:http://www.colorkinetics.com/products/oem/series300.htm