Lighthouse to unveil portable PopVision LED screen
Jun 1st, 2005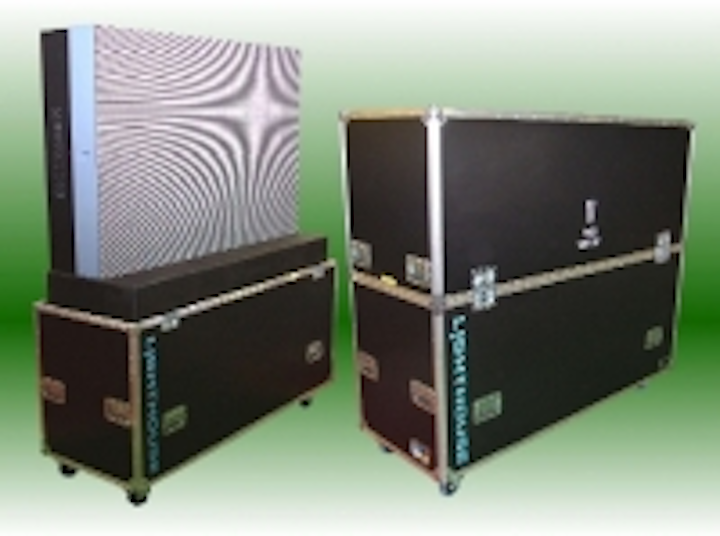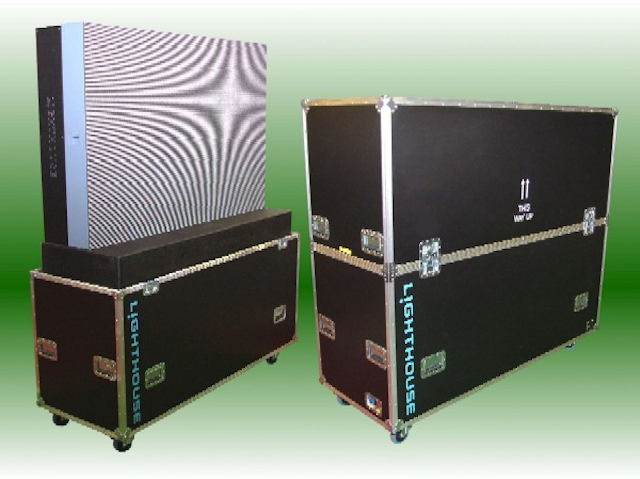 Date Announced: 01 Jun 2005
* New "PopVision" Display Ideal for Rental and Staging, Mobile Digital Signage
In a move that breaks new ground in the rental and staging and mobile digital signage markets, Lighthouse Technologies today introduced the industry's first portable, self-contained "pop-up" high brightness light emitting diode (LED) video screen. A leading manufacturer and global supplier of state-of-the-art LED modular video panels, Lighthouse, will be showcasing the "PopVision" at the InfoComm exposition, June 8 through June 10 at the Las Vegas Convention Center (Booth 7701).
Ideal for entertainment, event, and marketing venues where mobility is a priority, the PopVision is the industry's first portable LED visual display that gives users "Times Square in a box." Addressing the need for more mobile and flexible LED displays, PopVision features Lighthouse's proprietary technology, enabling a high-resolution screen with better quality images at an affordable price. Designed for aesthetic integration, PopVision – with brightness level up to 3000 nits – Is an excellent choice for any digital signage network (new or existing) where LCD, Plasma and projection systems are not appropriate. PopVision can also be used in outdoor applications and be seen in direct sunlight with the proper weatherproof housing.
The 6mm screen is contained in a 5 foot by 2 foot mobile case with a wireless remote and hydraulic system that enables the display to "pop up" for fast, simple set-up. The case's hydraulic "Power lift" mechanism works off dual-voltage input with 100VAC and 240VAC so the system can work throughout the world.
The first in a new series of LED products, the PopVision is based on the technology behind Lighthouse's M6 self-contained, fixed-installation display, which can be networked for digital signage applications. Last year, a network of 80 M6 screens was installed atop New York City subway entrances, displaying video advertisements that can be transmitted and controlled remotely. Lighthouse plans to extend this family of products to address other rental and staging and mobile digital signage applications.
"The PopVision represents a true breakthrough for the rental and staging and mobile digital signage markets, giving event planners and marketing and AV professionals unprecedented flexibility in their use of LED technology," said Lighthouse Managing Director Mark Chan. "LED visual displays are becoming increasingly popular due to the quality and brightness of the screens and durability of the technology, but mobility can be a challenge. The PopVision answers this need and opens new opportunities for the use of LED technology for a broader range of rental and staging and signage applications."
Lighthouse's PopVision screens are available in 56 inch and 80 inch diagonal screen formats and are ready for immediate shipment. Other PopVision features include:
• 140-degree horizontal viewing angle
• 4.4 trillion color capability
• 50/60-frame-per-second frame rate
• Display input for RGB HV, SDI, RGB, YUV, YC, Composite, PAL/NTSC, VGA overlay (HDTV and HDSDI optional)
• Lifetime 50,000 hours to half brightness
• 3,000 nits brightness
Over the past year, Lighthouse has launched a number of new LED products which will be showcased at InfoComm, including its recently introduced super-quiet 10mm P10 and R10 panels. Over the past year, Lighthouse has seen their products installed in a number of high visibility locations, including San Diego Padres PETCO Park and on the set of the Queen's "We Will Rock You" show in Las Vegas.
Contact
Bill Wrinn, Topaz Partners Phone: 781-388-7900 Ext. 217
E-mail:bwrinn@topazpartners.com
Web Site:http://www.lighthouse-tech.com