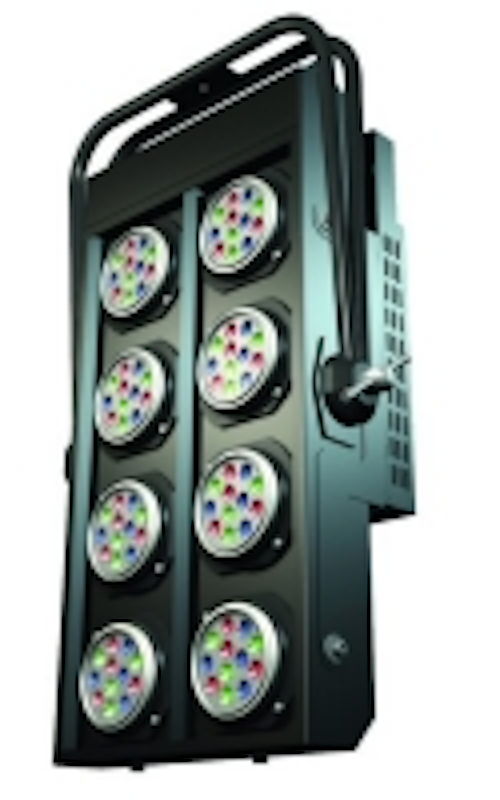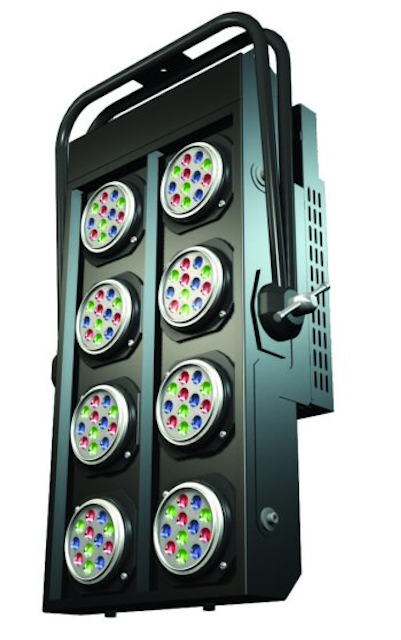 Date Announced: 07 Sep 2005
Robe Show Lighting has chosen PLASA 2005 to unveil more than 10 new products.
New: LEDBlinder 196 LT and LEDBlinder 148 LT
Robe's LEDBlinder 196 and 148 units are the brand's first entertainment based LED products.
Both units are fitted into the industry standard 8-lite and 4-lite casings and offer set and lighting designers all the options.
LEDBlinder is an LED version of the popular 8-lite Molefey, a staple of the rock 'n' roll world, featuring 8 LED modules, each with 12 RGB LEDs (see image). Each four pairs of modules are separately controllable. This product is aimed at all stage lighting markets and television productions and for arenas and larger venues.
The LEDBlinder 148 is a 4-way version of the 196.
New: LED Wash 136 LT
This is a powerful LED moving head with thirty-six 1 Watt Luxeon LEDs offering RGB colour mixing with a virtually unlimited selection of colours.
It's the first in a completely new line of LED moving heads from Robe. The LED fixtures will feature all the engineering quality, reliability and robustness for which Robe is renowned.
The LED Wash 136 LT has 12 red, 12 green and 12 blue LEDs and pre-programmed white. With electronic dimming from 0 – 100 %, effects include high speed strobing up to 25 FPS and the ability to strobe in any colour combination.
Applications include architectural, TV studios, theatre, concerts and live events and all types of venues.
Anolis
Robe is also introducing the Anolis range of LED products to PLASA for the first time, designed for the architectural market.
The basic Anolis product range consists of ArcLine LED strips and ArcSource LED fixtures.
These products combine cutting edge technology with great aesthetics to produce quality 'specifier' class lighting systems.
ArcLine and ArcSource offer all the long life, low maintenance, environmental and cost effective advantages of solid state lighting technology.
Contact
ROBE Show Lighting s.r.o. Hazovice 2090, 756 61 Roznov pod Radhostem Czech Republic Tel.: +420 571 751 500 Fax: +420 571 626 337
E-mail:lenka.satankova@robe.cz
Web Site:http://www.robe.cz