NeoPac launches LED Lotus Lantern targeting 2008 Olympics
Sep 30th, 2005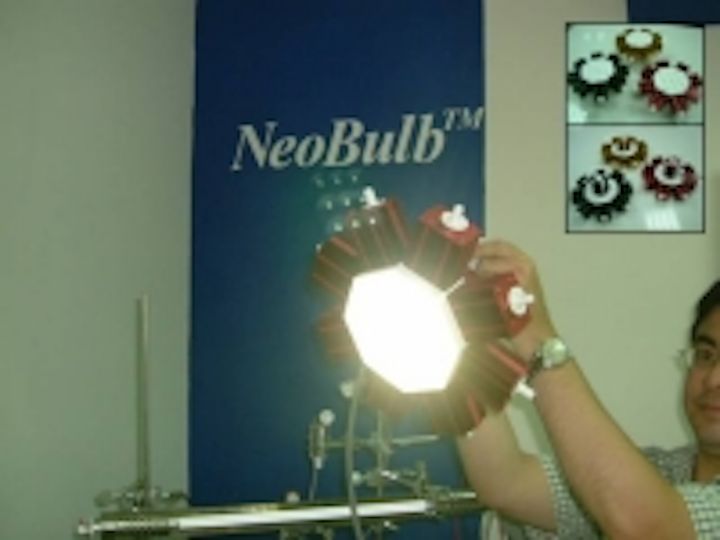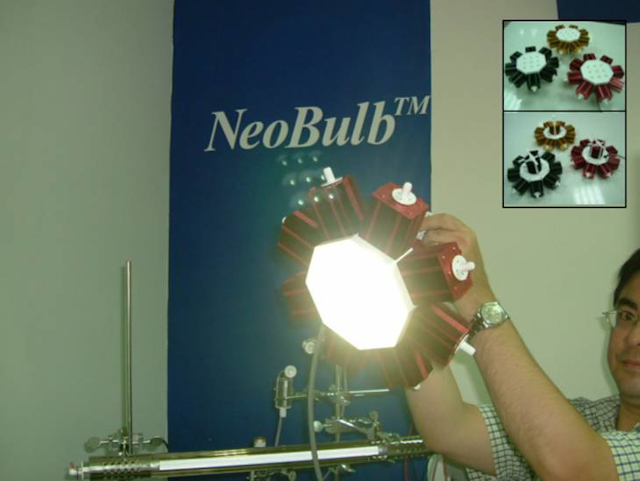 Date Announced: 30 Sep 2005
-New lighting design blends modern science, functionality, and classic Chinese culture
In a radiating design that blends modern opto-electronic technology and classic Chinese cultural symbolism, NeoPac Lighting is launching its flagship product this week: the NeoBulb™ Combo series LED lamp, called Lotus, that is targeted at the 2008 Beijing Olympic Games.
With nine LED light sources (3x3) embedded in an octagonal pattern with well-balanced radial symmetry, the 72-watt LED Lotus Lantern can provide up to 1,800 lumen in brightness output (see photo).
The Lotus Lantern features NeoPac's proprietary LED technology design, with the outfitted 9 high-brightness point-light-source NeoBulb™Light Engines having ultra-high-power range (8 watts each), excellent heat dissipation, and maintaining control of the LED junction temperature (Tj) at only 60 °C with ambient temperature (Ta) at 25 °C. Even when the environment temperature rises up to 40 °C, the Lotus can well control the Tj within 75 °C.
The system-in-package thermal resistance Rja (junction to ambient) was well designed at under 4.38 °C/W. The heat is taken out from the junction of LEDs and dissipated into the surrounding air by each NeoBulb™ Light Engine individually.
Since the heat at junction is one of the primary causes of LED degradation, Lotus empowers LEDs at 72 Watts and keeps Tj at a sufficiently low level to promise a long life expectancy for general lighting applications.
See the NeoPac Lighting
Company Profile
for more information on NeoPac's technology.
Lotus flower design
As the name implies, the 72 Watts Lotus with eight heat dissipation modules in an octagonal pattern and with one vertical module in the central core is packaged in the classic Chinese lotus flower design; it is the "King of LED lamps", according to NeoPac Lighting President and CEO Jeffrey Chen.
"With colours of White, Red, Green, Blue and RGB-mix, the Lotus can be used for both indoor and outdoor general lighting, for bright illumination at all directions," said Chen. "For its luminous flux output and optimal thermal management, it was the natural result to arrive at this logical solution. This is also a novel solution that combines modern and ancient styles, and also embraces high-tech, aesthetic, and cultural design themes."
He indicated that it is also a great energy-saving lighting device, where the brightness output from the 72-W Lotus is equivalent to and can replace the 200 watt incandescent lamp, which would represent more than 50 percent in energy reduction. This is quite an attractive incentive for the industry and consumers, considering the current state of fluctuating oil market and higher energy costs worldwide in the foreseeable future.
Symbol for the Olympic Games
Already gaining a reputation within the industry, NeoPac Lighting is launching the LED Lotus Lantern in time for the functional and working requirements of the 2008 Beijing Olympic Games.
With less than 3 years to the Beijing Olympics (August 8-24, 2008), China is now undergoing a construction boom with fast-paced building of sporting facilities, along with the upgrading of infrastructure projects and transportation networks around its capital city and surrounding regions to meet international standards.
This means tremendous business opportunities and immense appetite for the modern LED general lighting and commercial lighting markets for the Beijing Olympics, and for other main cities and economic regions of China as well.
Chen explained that, "The lotus flower is familiar to the Chinese philosophy and folk religion as a symbol of peace, tranquility, and purity. Such lotus-shaped lights, known as "peace lamps", are lit in Buddhist temples and also during certain traditional holidays in the Chinese world. The lotus flower is also a revered sacred symbol in many Asian cultures, and has significant meanings of growing in turbid ponds but not stained by muddy soil, while remaining virtuous with its cleansing and pleasant appearance."
He went on to suggest that, "And therefore it would be quite suitable for the Beijing Olympic Organizing Committee to adopt the powerful high-tech LED Lotus Lantern as the 'peace lamp' for one of the main thematic lighting features for the 2008 Olympic Games. This would show to the world that China is a peaceful rising power, for showcasing her national aspirations and her Oriental cultural roots to the international audience for the upcoming the Beijing Olympics."
Furthermore, Jeffrey Chen said the NeoPac LED Lotus Lantern, with its arrangement of 8-cardinal points of aligned thermal dissipation modules, also corresponds to the classic Chinese "Ba-Gua" (the 8-trigram configuration) diagram from the ancient Taoism divining text of I-Ching (the "Book of Change").
The "Ba-Gua" diagram, with the 8 trigrams each representing one of the natural elements and its relationship to human action, has special deep-rooted meanings as well as eloquent cultural context to the Chinese people; and the "Ba-Gua" diagram also shows up in many Oriental architecture design and traditional folk religious symbols.
Therefore Chen also pointed out that the NeoBulb™ Combo series LED Lotus Lantern would have special crafted patterning of the classic I-Ching's 8 trigrams in a fusion of modern science and the naturalistic Taoism philosophy.
He said both the Lotus and the "Ba-Gua" designs can be readily incorporated into the many lighting requirements for Chinese-styled landscape, leisure park, roadway, building complex, residential housing, and commercial projects.
"Our ultra-high-power LED point-light-source NeoBulb™ Light Engine is leading the field within the industry of general lighting. We now have 16 international patents filed for our technical platform design.……. Our proprietary system-in-package technology can operate LEDs at ultra-high-power range and readily control the LEDs' junction temperature (Tj) within a safe margin."
"For longer lifespan, we can also design the NeoBulb™ Light Engines in Lotus with lower Rja at 3.12 °C /W and keep the Tj at only 50 °C (Ta=25 °C). It will be a technology hurdle for current LEDs solution to achieve this goal. Based on our NeoBulb™ Universal Platform, the 72-W Lotus represents a flexible design in combination with NeoBulb™ Light Engines, and the advantage of our technology is obvious," according to Jeffrey Chen.
Green technology
In addition, Chen states that NeoBulb™ Combo series LED Lotus Lantern is also a "green" product that is environmentally-friendly, and conforms to EU and other international standards on metal pollution.
He points out that the European Union and other developed economies are imposing more stringent environmental regulations against mercury and other toxic metal material contained in fluorescent bulbs and the older incandescent lighting systems. Chen said the LED Lotus Lantern, and other NeoPac lighting products, do not contain mercury or other heavy metal material, and thus its parts can be readily recycled.
Therefore he expects the global industry and new government regulations will be moving towards these new lighting standards, and he is confident of this flagship Lotus Lantern and other NeoPac lighting products making major in-roads into the growing Chinese market, with the 2008 Beijing Olympics as one of the most important sign-post projects in the world to lead the way.
Contact
Jeffrey Chen President, NeoPac Lighting, Inc. Tel: +886-3-558-3620 ext. 201 Fax: +886-3-558-6909
E-mail:jchen@neopac-lighting.com
Web Site:http://www.neopac-lighting.com