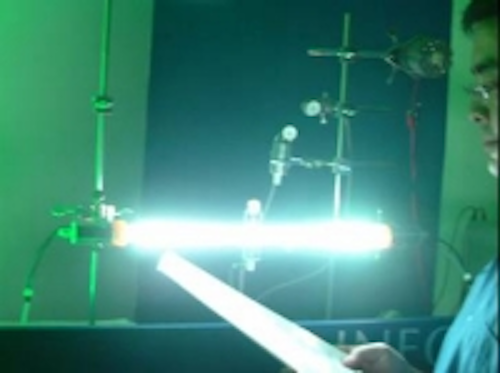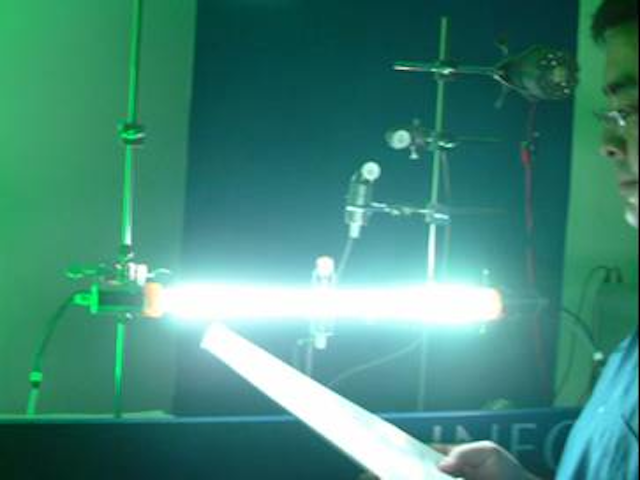 Date Announced: 01 Sep 2005
Product has fluorescent-like high brightness output and is also friendly to the environment.
(Taiwan) Combining innovation in LEDs technology and versatility in everyday application, NeoPac Lighting is introducing the first fluorescent replacement LED Tube Light on the market that is another breakthrough for the company's single-packaged, point-light-source NeoBulb™Light Engine.
This new LED lighting product is set to revolutionize the industry with high brightness output and long life durability, while also conforming to new international environmental protection standards.
The fluorescent-like NeoBulb™Tube Light has the coupling of two point-light-source NeoBulb™Light Engines onto a high transparent partially reflective Polycarbonate light pipe to offer hundreds of lumen output. The actual luminous flux depends on what kinds of NeoBulb™ Light Engine to be choosing.
It is the latest success from NeoPac Lighting following the company's record-breaking NeoBulb™Light Engine at 20 Watts 500 lumen as introduced earlier in July, and the 18 W, 300 lumen NeoBulb™Light Engine at the Opto Taiwan 2005 Show in June.
With the light pipe at 400 mm length, 14mm in diameter, the NeoBulb™Tube Light is similar in outlook and in bright illumination as fluorescent tube lamps that are in common use as general lighting in commercial applications. But it is more than just for general lighting, as the bright white glow of fluorescent tube lamps are found in their familiar usage.
The NeoBulb™Tube Light can also come in a multitude of colors (White and RGB is variable) for both general lighting and decorative use. NeoBulb™Tube Light has enormous potentials for worldwide markets. Its aim is to replace fluorescent tube lights in all its current applications, both indoors and outdoors, and more.
"Designed with our patented in-house system-in-package technology to produce high brightness point-light-source, the NeoBulb™Tube Light will become the new industry standard to replace fluorescent tube lighting in the foreseeable future," says Jeffrey Chen, President and CEO of NeoPac Lighting, Inc.
"Since the LEDs chip technology will be improved in luminous flux as expected, with NeoBulb™Light Engine able to operate at ultra-high-power range and control the LED junction temperature (Tj) at only 75?, the NeoBulb™ Tube Light therefore also has high luminous efficiency and long life durability."
Chen added that an RGB color changeable NeoBulb™Tube Light will add colors to people's lives, and provides whole new ways of lighting design possibilities for homes, at work, and at play. It can be used for decorative lighting, general indoors and office illumination, commercial advertising, entertainment and also for spot lighting and panel lighting purposes.
He said it is a new solution, based on NeoBulb™ LED technology, by joining two robust high brightness point-light-sources together combined in a linear tube design to produce the planar illumination effect as achieved by the standard fluorescent tube lights.
Environmentally friendly
Additionally, Chen indicated the new fluorescent-like LED NeoBulb™Tube Light is also good for the environment, because unlike the fluorescent tube light, it does not contain mercury or other toxic heavy metal. "The LED NeoBulb™Tube Light is a 'green' product, and its parts all can be recycled. It is environmental friendly and can meet the rigorous standards as set by the international community. There are no toxic material content and therefore has none of the pollution problems associated with fluorescent tube light products," Chen said.
EU is leading the world in proposals to phase out mercury-containing fluorescent lighting sources and electrical equipment, because mercury is highly toxic and has serious effects on human health, as well as having high cost associated with the recycling and clean up of discarded fluorescent tube light.
The European Commission had already proposed a comprehensive strategy against mercury pollution in January of this year, with the aim of cutting EU and global emissions and use of mercury products, including phasing out EU mercury exports by 2011. This EU proposal follows the footstep of the United Nations Environmental Programme (UNEP) that adopted a "Mercury Programme" for global actions to curb mercury pollution at a conference session in Feb. 2003.
Chen pointed out that it has become a global trend for countries to adopt regulations for phasing out the use of mercury-containing fluorescent light sources, and this opens up a tremendous opportunity for replacement lighting application products, and the company's LED NeoBulb™ Tube Light is most suitable to overtake this market.
With its versatile application and bright illumination matching in everyway to the current use of fluorescent tube lights but without the pollution problem, Chen expects in the near future the worldwide industry and government regulations will be moving towards the new lighting standard as set by LED NeoBulb™Tube Light.
Contact
Joyce Chuang NeoPac Lighting, Inc. Tel: +886-3-558-3620 ext. 208 Fax: +886-3-558-6909
E-mail:joyce@neopac-lighting.com
Web Site:http://www.neopac-lighting.com