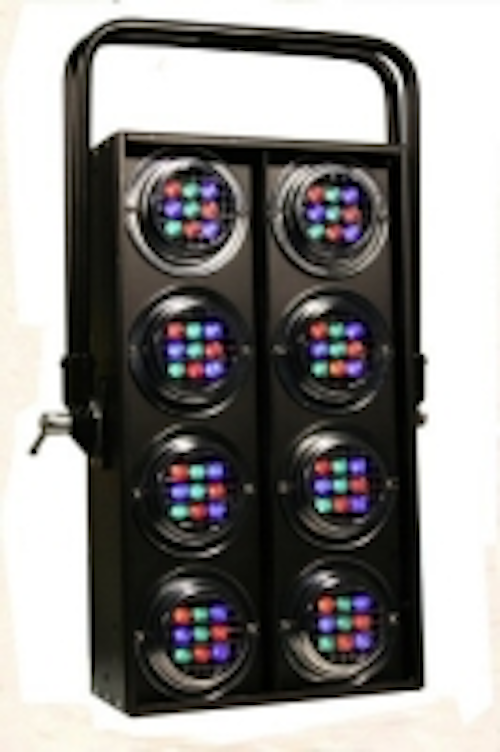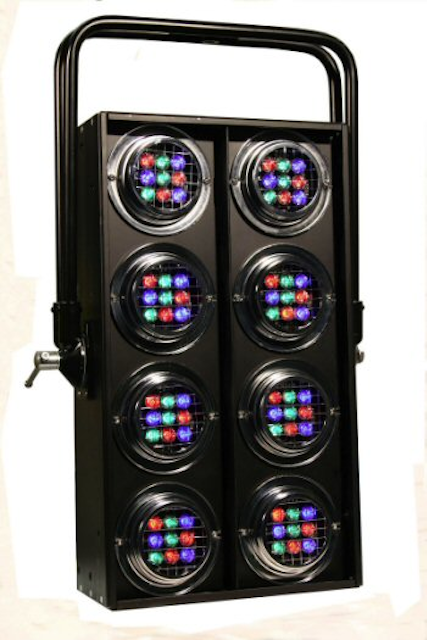 Date Announced: 09 Sep 2005
James Thomas Engineering launches several important new products at PLASA 2005.
PixelEight
This is the first in the new series of contemporary and chic versions of classic instruments … The PixelEight LED 'mole', 'blinder' or '8-lite' is launched at PLASA 05 (see photo).
The LED version brings all the benefits of LED technology to one of the industry's favorite stage lighting fixtures … allowing the exploration of truly innovative design ideas.
• PixelEight is ideal for audience and stage lighting illuminations and other long throw applications. Its 6 degree beams give an excellent spread
• Independent control of each LED pixel is great for creating strobing and very powerful shadow effects
• A potent internal Effects Engine produces unique colour strobing and colour scrolling effects
• Optimized to work with JTE's PixelDrive LED mapping software
• Safe wash or blinder fixture - with no ignition risk – or inadverted burning scenarios
• No heat projected by unit – great for close proximity work with artists
• Robustly engineered and designed to tour
• Can be hung vertically or horizontally
• Supplied with a set of bolt holes - for the easy arraying of multiple units
• Filter holder slot as standard
• Both rows of LEDs can be panned/focused to spread the beams
• Semi-recessed power and data in/out connectors
• Draws current of just over 1 Amp at FULL power!
PixelLine 96 Batten
This is the latest in the series of James Thomas's industry standard LED battens – which started with the launch of the PixelLine 1044 in 2002.
The fixture contains 96 Luxeon LEDs (24 each 1W red & amber and 24 each 3W blue & green) over 6 cells, stretched into two rows to enable the seamless forming of lines with multiple fixtures - for effects like highlighting and set dressing.
• Ideal for set & cyc illumination and with long throw capacity
• Powerful FX Engine that produces colour scrolling and colour strobing capabilities
• Great for rental companies requiring both a visual blinder effect and a powerful linear wash light combined into a single fixture … building on the phenomenal success of the 1044 batten
• Optimized to work with PixelDrive controlling the amber channel
• No fire or heat damage risk when used in close proximity to scenic elements and sets
• No heat emissions from the unit
• Enhanced user-interface functionality
• Designed & built to tour
PixelBrick
A new version of the PixelBrick will be available on the stand – based on the massively popular PixelLine 1044, the PixelBrick is a singe cell RGBA fixture designed for both indoor and outdoor use. It comes with weatherized connectors as standard and is great for truss toning.
The new PixelBrick is complemented by the new 2-unit rack-mounted RGBA driver for the PixelBrick Series.
PixelDrive
Working in collaboration with Radical Lighting, JTE presents the latest version of PixelDrive – the revolutionary LED mapping and control software for controlling all LED surfaces – which offers enhanced functionality and flexibility and even more creative possibilities.
The latest PixelDrive features include Sound Activation and Preset Store.
The new version also allows designers to create their shows offline.
You can now run up to 14 DMX universes through PixelDrive from a fast spec'd PC or Mac laptop.
The PixelDrive system is available in 3 sizes ... And the evaluation issue can be unlocked with the purchase of a dongle.
Radical Lighting are also showing their new VideoDrive product, which is based on PixelDrive's architecture and provides a cost-effective solution for touring, television, clubs and all types of live entertainment fields.
The amazing new Radical Lighting NGI digital media server – currently in use on the Coldplay world tour – is also on show.
United Visual Artists
Video and electronic artists UVA have put together a spectacular live show for the stand featuring Pixel hardware and control products, and particularly geared to lighting designers who are integrating video as part of their show visuals.
UVA will be presenting some of their acclaimed graphics and visual designs as seen on the 2004 Massive Attack world tour.
JTE Trussing
JTE's trussing division shows the latest hardware solutions for arraying multiple PixelLine 1044 units quickly and easily, along with other customized trussing solutions for all events and occasions.
They are also showing their off-the-shelf new ground support tower for PA speakers and lighting fixtures.
JTE's team of structural experts will be on hand to discuss the latest in the world of rigging, lifting, suspension and elevation of lights, sound, video, scenery and any other production elements into the air.
5 Star Treatment
JTE has struck a special deal with 5 Star Cases to supply way-cool customized Pixel product flightcases – practically designed to fit multiples of any Pixel fixture like a glove.
New look JTE website
www.pixelpar.com has been totally revamped for PLASA
• JTE's regular newsletter PixelPress has gone live online, featuring up-to-the-minute news on all JTE Pixel products.
• Free PixelDrive evaluation disks are available
• PixelRange products are featured in two dedicated websites targeted at both the architectural and entertainment markets. Both sites are specifically designed to either market sectors, highlighting innovative case studies and projects.
Visit www.pixelrange.co.uk - the architectural site
Visit www.pixelpar.com - the entertainment site
Contact
James Thomas Engineering +44 (0)1905 363600
E-mail:info@pixelrange.co.uk
Web Site:http://www.pixelpar.com