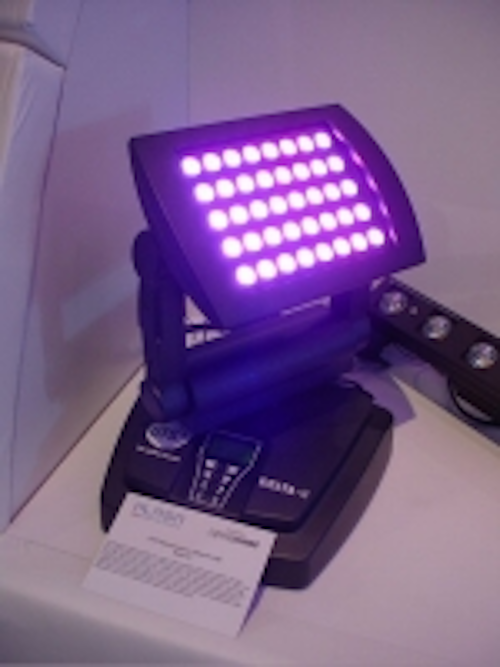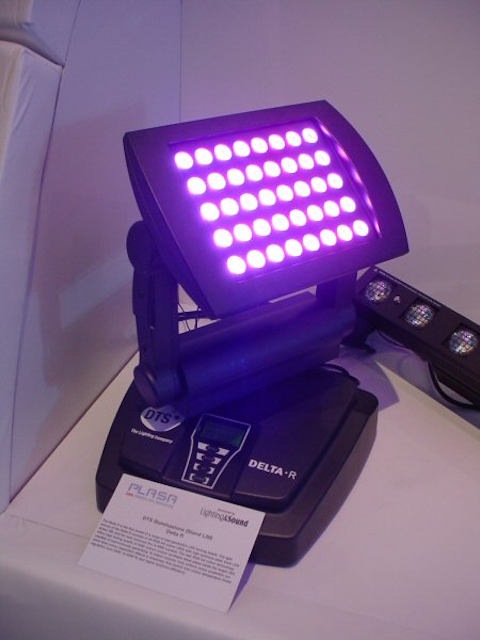 Date Announced: 19 Sep 2005
At PLASA 2005, DTS Illuminazione srl introduced the new DELTA R, the first model of a range of new-generation LED moving heads.
The DELTA R represents a radical evolution in comparison to conventional LED colour changers, because in a compact and elegant housing it incorporates the new LED RGB Full Colour technology, which gives a level of control over colour synthesis and colour temperature that till now was impossible, motorized Pan and Tilt, and an IP65 protection level that makes it suitable for a vast range of purposes.
The DELTA R can be used for applications both professional (concerts, shows, special events, theatres, TV studios) and architectural, for the illumination of interiors (shopping centres, libraries, museums, etc) and exteriors (buildings, monuments, public spaces, etc).
RGB full colour technology
The light source of the DELTA R consists in 40 RGB full-colour LEDs with high luminous yield.
Each LED has a power of 3 W, and the total luminous flux is 3680 Lumens.
The new RGB Full Colour technology offers:
* High mixing quality of RGB colours (colour synthesis takes place inside the single LED, capable of autonomously generating 16 million colours).
* Truly uniform colour projection (no more false colour separation effects in shadows).
* Fine control over colour temperature (linear regulation from 3200 to 5500 K).
* Higher luminous efficiency.
Other features
* Two interchangeable optical units of 25° and 40° are available.
* Motorized Pan and Tilt with 16-bit resolution
* Very high protection level (IP65), for installation both indoors and outdoors.
Independent operation / automated playback
The DELTA R can also be controlled without external consoles, and it can be used as Master or Slave in vast projector arrays.
All functions can be programmed and memorized in a sequence of events (different settings of intensity, colours, special effects, etc), permitting totally automated and perfectly timed playback.
Contact
Pierluigi Gasperoni Marketing Manager via Fagnano Selve 12 - 47843 Misano Adriatico (RN) - ITALY Tel. +39 0541.611131 Fax: +39 0541.611111
E-mail:pierluigi@dts-lighting.it
Web Site:http://www.dts-lighting.it