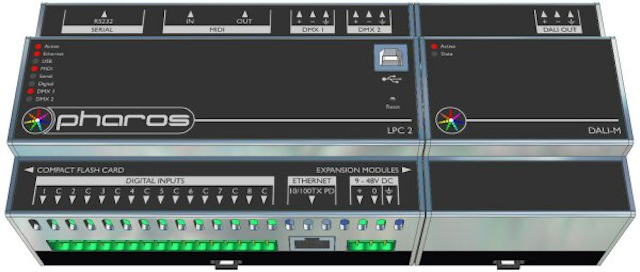 Date Announced: 02 Sep 2005
The Pharos LPC is the complete solution for the control of entertainment and LED lighting in an architectural setting. The market for decorative and interactive lighting presentations using LED fixtures is growing fast in the architectural, retail and domestic sectors, and large numbers of LED fixtures pose control challenges that existing architectural products can't meet. The Pharos LPC has been designed from scratch as the answer to this need and is the all-in-one choice for control in an installation environment
An industry-first in terms of compact design and functionality, the LPC offers solid-state, fit-and-forget
reliability in an installation-friendly package. The LPC supports DMX or DALI colour mixing fixtures (CMY, RGB), conventional dimmable fixtures/ballasts and automated moving lights (including RDM-enabled devices).
The Pharos LPC offers power on a par with leading entertainment lighting consoles, in a standard DIN rail mounting case less than 6 inches wide. Unlike existing products that simply record DMX frames, the LPC's powerful embedded processor calculates DMX values in real time in response to defined triggers, elegantly cross-fading, running effects and allowing separate control of multiple zones from a single unit.
Programming is created using the free Designer software which runs on any Windows or Mac PC and then downloaded to the installed units via Ethernet or USB where it is stored in solid-state flash memory. The software incorporates pixel mapping functionality to allow LED arrays to render imported media such as video clips. The software also has a full automated lighting fixture database, can import CAD drawings as backgrounds for the graphical plan and simulation views, run multiple timelines (with multiple triggers), simulate shows offline and has comprehensive show scripting and conditional triggering.
With real-time control of playback selection and lighting levels, the LPC can play back scenes, sequences, effects and video clips. It can be easily interfaced with a wide-range of touch panels and wall stations from various manufacturers. It also has a real-time clock and astronomical triggering functions and other triggering interfaces include RS232, MIDI, USB, digital inputs and, using optional expansion modules, DALI, LonWorks and SMPTE/EBU time-code. For show control applications the unit can also generate RS232 and MIDI command strings.
Available with either single (LPC1) or dual (LPC2) DMX universe outputs, the LPC2 can also be linked together via Ethernet to produce a scalable system that will automatically synchronise and share triggers across the network. A built-in web server allows remote network access for monitoring and programming, offering the real possibility of managing systems over an internet connection without going onsite.
The Designer software is free to download from the website http://www.pharoscontrols.com/software.html.
Product Data Sheets
Playback Controllers http://www.pharoscontrols.com/Assets/Files/Pharos LPC datasheet.pdf
Designer Software http://www.pharoscontrols.com/Assets/Files/Pharos Designer Software datasheet.pdf
Expansion Modules http://www.pharoscontrols.com/Assets/Files/Pharos Expansion Modules datasheet.pdf
Contact
Pharos Architectural Controls Limited Studio G20, Shepherds Building, Rockley Road, London W14 0DA Tel: +44-(0)20-7371-2032 Fax: +44-(0)870-7064012
E-mail:info@pharoscontrols.com
Web Site:http://www.pharoscontrols.com