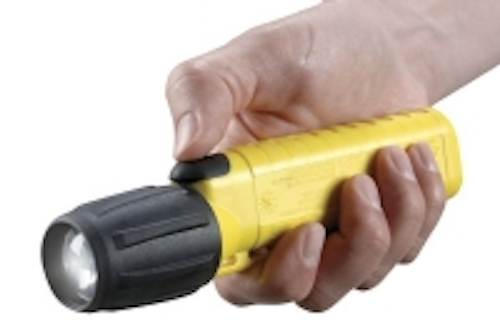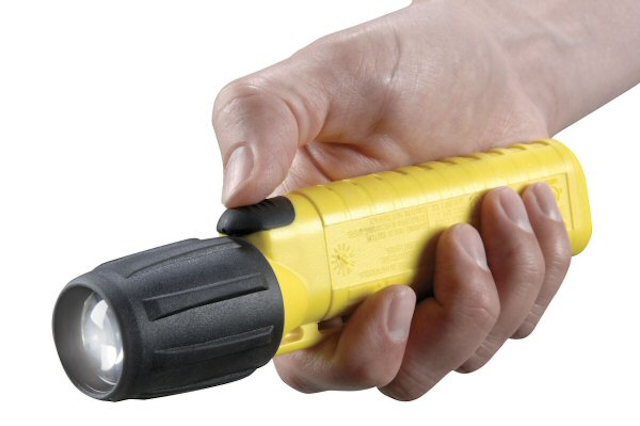 Date Announced: 22 Sep 2005
New Projection Optical System Generates More Light Than Seven LEDs Combined
Poway, Calif. UK, also known as Underwater Kinetics, a leader in specialty lighting solutions, today announced the release of its new ZOOM 4AA eLED Light - the first high-tech eLED light featuring UK's patent pending Projection Optical System.
Using a high-intensity LED, the ZOOM 4AA eLED Light projects a long-lasting, even, super bright beam at half the size and weight of bulky 3C LED lights. Ideal for most all-weather industrial, utility, HVAC, fire and emergency, and security applications, the new ZOOM 4AA eLED has a life 100 times greater than conventional xenon and is brighter than a cluster of seven LEDs.
The technological breakthrough behind the ZOOM 4AA eLED Light is UK's patent pending Projection Optical System, which uses a dual lens bezel instead of reflectors, and employs the latest advances to produce an incredibly smooth beam of light that closely mimics daylight. Projection Optics, simply put, is a revolutionary technology that heralds a new era in flashlight design.
Other outstanding features of the new ZOOM 4AA eLED include allowing users to adjust the diameter of the variable beam (from flood to focused), a battery saving mode - providing more than double battery life, and constant light output over the life of batteries. And its use of reflectors produces a distortion-free beam with a smooth, even illumination.
The ZOOM 4AA eLED Light boasts three key benefits:
1. Consistent Quality of Light: Unlike xenon lights, which immediately start to lose their brightness, the ZOOM 4AA eLED Light provides a consistent level of brightness for five to twelve hours. The light comprises unique electronic circuitry that is unlike any other light in its category.
2. Durable: The ZOOM 4AA eLED Light was built to take a beating, is waterproof up to ten feet, is electrically non-conductive, has a protective rubber bezel cover, and boasts an ultra-high impact ABS plastic casing. And the LED light is virtually indestructible.
3. Versatile: This fully accessorized work light can be mounted on a helmet, carried in a belt pouch, or used to direct traffic, and features a push-button electronic thumb switch that allows users to toggle between "full brightness," "power-saving bright," and "off."
Although the initial cost of any LED product may exceed that of its incandescent competitors, the fact that the bulb never needs to be changed makes the product less expensive over the long term.
The ZOOM 4AA eLED Light uses 4AA alkaline cells, provides 35 lumens of power, and has a Class I / Division 2 hazardous location rating by CSA and UL.
"The ZOOM 4AA eLED Light is a technological breakthrough that will provide professionals with a quality flashlight of unparalleled versatility and durability. Unlike any other lights on the market, the patent pending Projection Optical System efficiently gathers LED lights into a bright, even, and adjustable beam. This innovation will meet the most demanding user requirements while still being cost effective," said Alan Uke, president of UK.
The ZOOM 4AA eLED Light can be purchased through authorized UK dealers. For more information visit the UK website at http://www.ukbright.com or contact UK directly for the nearest sales representative at 800-327-7388 or info@ukbright.com.
About UK
UK designs and manufactures flashlights, waterproof cases, and other accessories for the utility, industrial, first response, government, and dive and sport industries' most demanding applications. UK is located in Poway, CA and has more than 30 years of experience in the development of these products. For more information visit the UK website http://www.ukbright.com.
Contact
Rob Swette, UK Tel. +1 858-513-9100, ext. 227
E-mail:rswette@uwkinetics.com
Web Site:http://www.ukbright.com