Lambda Research releases new version of TracePro design software
Nov 16th, 2005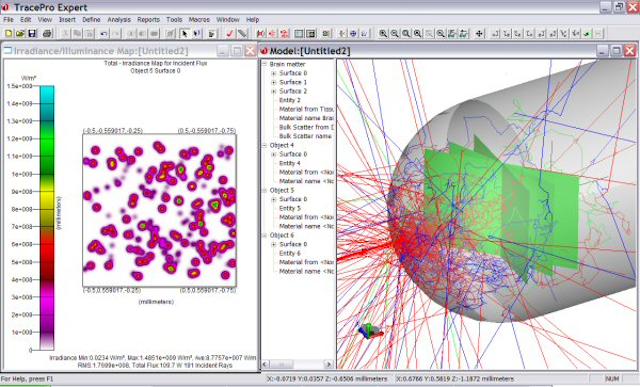 Date Announced: 16 Nov 2005
Littleton, Massachusetts. Lambda Research Corporation, developer of optical software TracePro® and OSLO®, announces the latest release of its illumination design software, TracePro.
TracePro now provides functionality to handle transmitting thin sheets and embedded thin sheets, which can be used as observation planes outside or within defined objects in TracePro models. As an example, thin sheets can be used in tissue optics modeling for medical devices. Output measurements made on thin sheets after ray tracing allow users to determine key areas where relevant optical data (flux, penetration power and attenuation, scattering data, etc.) can be better gathered, paving the way for future usable measurements on test subjects. Similar use of thin sheets in non-medical applications can also be done in TracePro.
Additionally, TracePro's RepTile™ (feature used in periodic textured surfaces simulation) now can be exported via 2D DXF drawing file format. These drawings specify surface texture/finish in DXF format compatible CAD software such as AutoCAD®. TracePro's analysis capabilities for luminaires and other lighting applications include additional IES output options to specify the number of lamps, flux scaling, and luminous dimensions for more detailed reporting of photometric data needed by architectural lighting software.
Aside from the now even faster ray trace algorithms and enhancements brought on by the use of TracePro's 3D kernel (ACIS R14 SP7), the enhanced TracePro measurement tool now shows distance changes in three orthogonal dimensions for vertex to vertex selections. This enables users to more accurately position objects, allows greater flexibility in the CAD design capabilities of TracePro, and ensures better accuracy in virtual model design.
Other improvements include output of stray light ray path data total flux containing the fraction of the total flux for each ray path to facilitate more complete stray light analysis.
The new TracePro release includes a total of 47 additions and improvements, all of which are listed in the TracePro 3.3.4 Revision history list available for download at http://www.lambdares.com/pub/tracepro/TraceProRevisionHistory.pdf. Current TracePro customers will find the TracePro 3.3.4 update installer available for download on Lambda Research's web site at http://www.lambdares.com/techsupport/traceproupdate.phtml.
Contact
Petra Lepke Director of Marketing Lambda Research Corporation +1 978 486 0766
E-mail:petra@lambdares.com
Web Site:http://www.lambdares.com