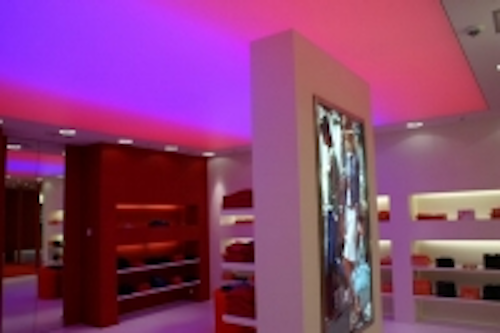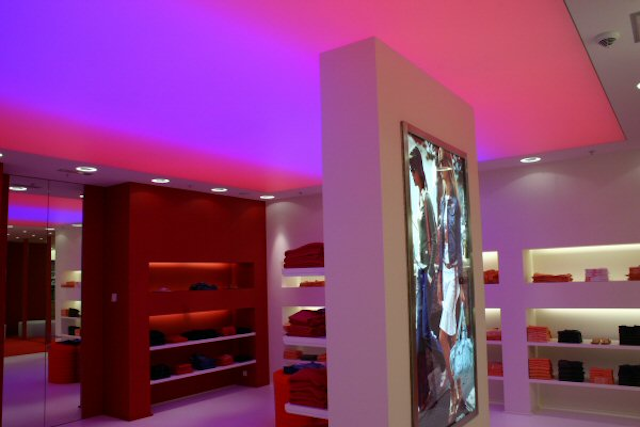 Date Announced: 14 Nov 2005
Lumidrives, the UK-based LED technology provider, has launched Colourdriver RF, a new low cost, simple to use, remote control lighting controller for LEDs. Colourdriver RF makes the creation of dynamic lighting effects - dimming and colour changing for example - as simple as installing ordinary light fixtures.
The photo shows an example of the use of Lumidrives' new Colourdriver RF at Mer du Nord in Brussels, one of a chain of 25 European clothes shops. The architect was Laurent Gutmer of 3me Bureau, and Lux Lumen supplied the lighting equipment.
The use of LEDs is becoming increasingly popular in retail and architectural environments. However, traditional control systems like DMX can be expensive and complicated to use; taking them outside the budget and scope of many would be installations.
Colourdriver RF is an intelligent driver system which is controlled by a radio remote control. It can be simply plugged into the mains, making the selection and control of light effects as easy as operating a CD player. Its entry level cost also means it has potential for use where current control systems would not be practical.
Radio remote control removes the need for control cables and means Colourdriver RF can be retrofitted to existing lighting installation or even integrated with track lighting systems.
Gordon Routledge managing director at Lumidrives says; "Colourdriver RF makes LED control available to virtually every installation. It is especially ideal for those which require simple controls that can be operated by virtually anyone. It is also ideal not only for retrofitting in places where control systems are too expensive, but for OEMs looking to integrate lighting controls into their new products ranges."
Operating range of Colourdriver RF is 100m, based on a master and slave unit. It operates on universal mains input voltage of 90-260VAC, has Lifesaver thermal LED protection fitted as standard and has an extremely compact power driver.
Colourdriver RF is fully compatible with Lumidrives' Colour Engine series of colour changing LED products. For more information see www.lumidrives.com
Lumidrives was founded in 2001, being one of the first companies to realise the potential of high powered LED technology in illumination applications. It specialises in the development of components to enable the emerging applications in solid state lighting, including power drivers, LED arrays and optics. The company also offers design services for LED based illumination systems.
Lumidrives exports across Europe and Scandinavia, and to China, India, Australia and New Zealand. Major clients include Philips, Alsthom and Britax.
Contact
Gordon Routledge Managing Director Tel. +44 (0) 1423 798255
E-mail:groutledge@lumidrives.com
Web Site:http://www.lumidrives.com