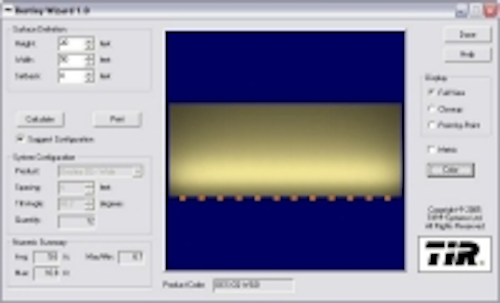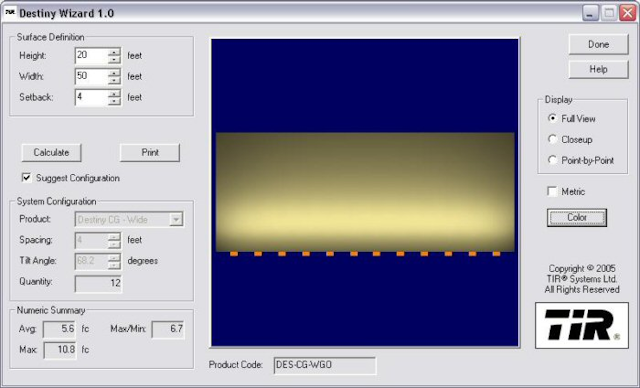 Date Announced: 21 Nov 2005
-- First-ever lighting design software for solid state lighting luminaires
TIR Systems has released its Destiny Wizard lighting design tool for calculating the illuminance distribution of solid state lighting products from TIR Systems.
Destiny Wizard is available for download at no charge from www.tirsys.com by looking under "Resource Center" and then "Calculators and Design Tools."
Developed by IES fellow Ian Ashdown, Destiny Wizard is simplified to meet the needs of lighting specifiers, engineers and sales representatives by providing immediate specifications of products for their projects.
A simple yet powerful and accurate design tool, Destiny Wizard enables the user to develop accurate lighting designs quickly for TIR's LED-based products. The software can accurately render any of 16 million colors, enabling the designer to choose from a range of available LED colors rather than inaccurate computer default colors.
Convenient to use, Destiny Wizard eliminates the need to create full architectural layouts in order to view how SSL products will illuminate a particular wall, façade or space. Instead, the user simply inputs the wall dimensions and required tilt angle, then a recommended SSL luminaire is automatically chosen to quickly develop an accurate color rendering that is photometrically correct.
About TIR Systems Ltd.
TIR Systems, a world leader in light-enabling technology, is building the foundations for tomorrow's lighting. Through sound innovation and proven technical capability, TIR is developing, designing and marketing the core technologies that will allow Solid State Lighting (SSL) to move to the forefront of mainstream lighting.
Contact
Melanie Moore Corporate Marketing Manager Tel: 604-473-3965
E-mail:melanie.moore@tirsys.com
Web Site:http://www.tirsys.com