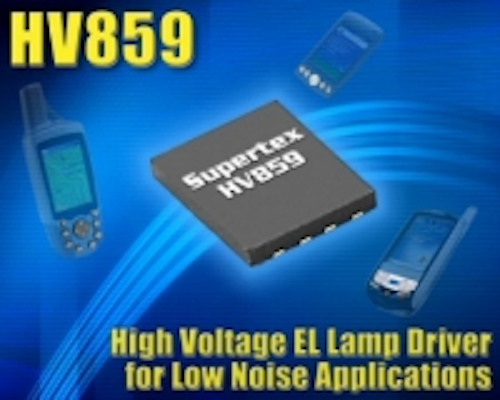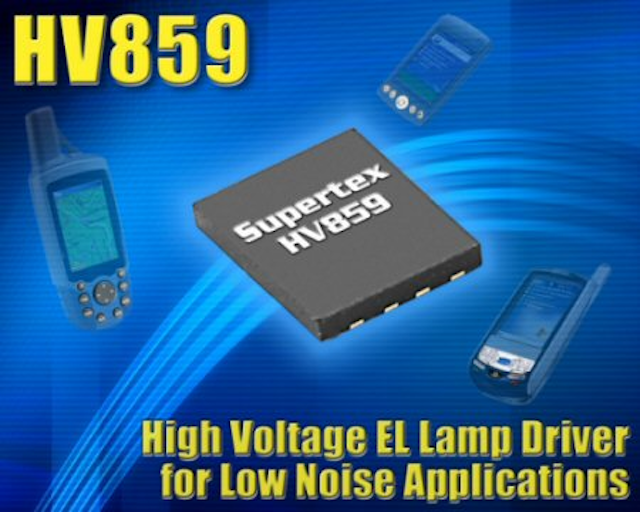 Date Announced: 17 Nov 2005
SUNNYVALE, Calif., – Supertex (NASDAQ: SUPX), a recognized leader in high voltage analog and mixed signal integrated circuits (ICs), today introduced the HV859, a new high voltage, electroluminescent (EL) lamp driver IC. It is designed for applications such as cellular phone keypads, LCD backlighting, global positioning system handsets, illuminated watches, PDAs, and MP3 players. It features patented technologies that boost output voltage and reduce audible noise.
The HV859 drives EL lamps of up to 5 square inches with peak-to-peak output voltage of 210V from a wide input voltage range of 1.8V to 5.0V. It features patented output timing for extremely efficient operation and output voltage regulation for consistently high brightness. It also features proprietary technology that increases voltage supplied to the EL lamp as its capacitance decreases, thus extending the half-life of the lamp.
The HV859 also features an enable function that provides easy control from a microprocessor or other logic circuitry. No external components are required for the enable function.
"The introduction of the HV859 broadens Supertex's powerful and versatile EL lamp driver family," states Ahmed Masood, Director of Marketing for Supertex. "This IC leverages Supertex's patented technology to enable manufacturers to produce brighter displays with high efficiency."
The HV859 is available in MSOP-8 (HV859MG-G) and MLP-8 (HV859K7-G) packages. All parts are Green and RoHS compliant. Samples are available from stock. Lead-time for production quantities is 4-6 weeks ARO. Pricing is US$0.90 each for the HV859MG-G and US$0.94 each for the HV859K7-G, all in 1K quantities.
Contact
Ken Vickers Marketing Communications Manager 408/222-4810
E-mail:kennethv@supertex.com
Web Site:http://www.supertex.com