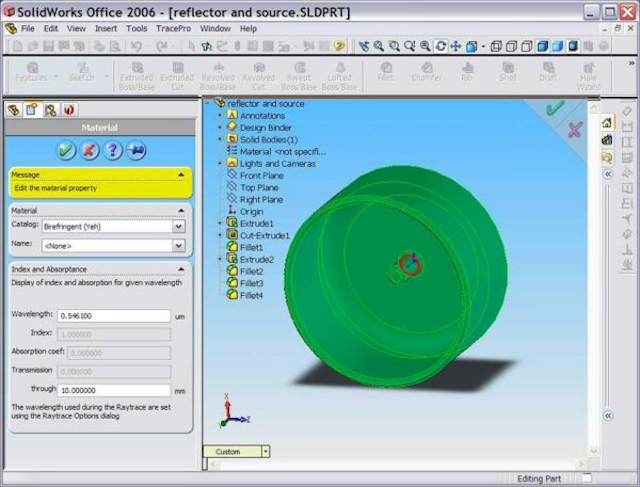 Date Announced: 03 Nov 2005
Littleton, Massachusetts – Lambda Research Corporation, developer of optical software TracePro® and OSLO®, introduces an Add-In to the mechanical design software SolidWorks®.
This new product, TracePro Bridge for SolidWorks, has an anticipated release date of January 2006, however Lambda Research is taking orders for this new product now.
The TracePro Bridge allows users to include optical components, light sources, detectors, sensors and optical effects and properties directly in mechanical models within SolidWorks. The completed opto-mechanical models are subsequently exported to TracePro, an optical simulation software package, ready for optical ray tracing and analysis.
The
photo
shows the Mechanical Design of a lamp and reflector showing the Optical Material property page incorporated via the TracePro Bridge to SolidWorks.
TracePro Bridge for SolidWorks will enable the following powerful functions: the ability to assign and save TracePro optical properties to the model within SolidWorks, the capability to view properties of objects and surfaces comprising the model, and the smooth, direct and efficient transition of models from mechanical design to optical analysis software.
"The TracePro Bridge for SolidWorks will provide the link to analyze the effects of light on sophisticated mechanical structures created in SolidWorks," said Rich Hassler, Executive VP at Lambda Research Corporation. "The Bridge will allow engineers to utilize the geometric modeling capabilities of SolidWorks and the powerful ray tracing of TracePro in a synergistic way. Engineers will explore larger design spaces more quickly with the coupling of these two powerful software tools."
About Lambda Research Corporation
Based in Littleton, Mass., Lambda Research Corporation was founded in 1992 and is a privately held company. Lambda is an industry leader in stray light analysis, illumination system design and analysis, and custom software development.
Lambda Research publishes TracePro® software for optomechanical modeling and OSLO® software for optical design. The company's mission statement is to establish a technology bridge between optical engineers and mechanical engineers by providing state-of-the-art optomechanical design and analysis software, services and technical support to the optics industry worldwide.
SolidWorks is a registered trademark of SolidWorks Corporation. TracePro and OSLO are registered trademarks of Lambda Research Corporation.
Contact
Petra Lepke Director of Marketing Lambda Research Corporation 1-978-486-0766
E-mail:petra@lambdares.com
Web Site:http://www.lambdares.com