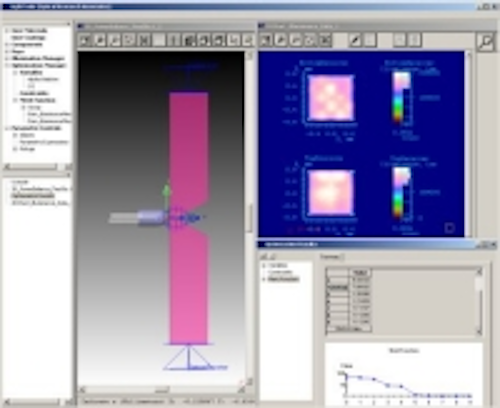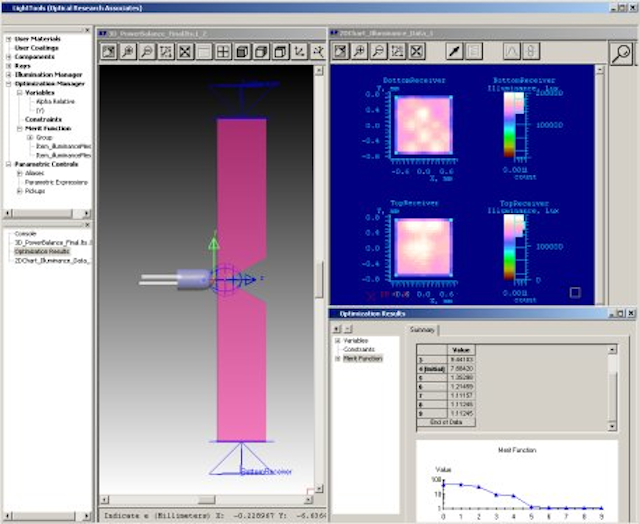 Date Announced: 17 Nov 2005
LightTools® Version 5.2 from Optical Research Associates (ORA®) is the first ever illumination design and analysis software to deliver a fully integrated system optimization tool.
The new LightTools optimization module improves the performance of virtually any type of illumination system, and it gives designers tremendous flexibility to choose from hundreds of system parameters to designate as variables in order to achieve specified luminance, illuminance or output intensity distribution goals.
Full integration of this optimization capability with LightTools 3D solid modeling ensures that the optimizer delivers practical, realistic solutions that yield the best possible system performance in a fraction of the time it would take to accomplish manually.
Augmenting the capabilities of the LightTools optimizer is the parametric controls feature also available in Version 5.2. Used in conjunction with the optimizer or in earlier stages of system design, this new feature improves parameter management efficiency. By enabling the properties of various system elements to be associated, parametric controls permit global changes on a model to be accomplished by varying a single parameter.
LightTools Version 5.2 also introduces several powerful features beneficial to flat panel display (FPD) designers specifically. These include a library of models for commercially available Display Enhancement Films (DEFs) and Brightness Enhancing Films (BEFs), which are widely used in the construction of LCDs.
In addition, LightTools now supports modeling luminescent materials, such as phosphors, which are commonly found in white LEDs, fluorescent lamps, backlight displays and CRTs. This new release also contains 90 pre-built "starting point" designs for automotive, backlight, digital projector, imaging, LED, light pipe, general lighting, and stray light applications.
Contact
David Brown Optical Research Associates 3280 E. Foothill Blvd. Pasadena, CA, 91107 626-795-9101 FAX 626-795-0184
E-mail:info@opticalres.com
Web Site:http://www.opticalres.com