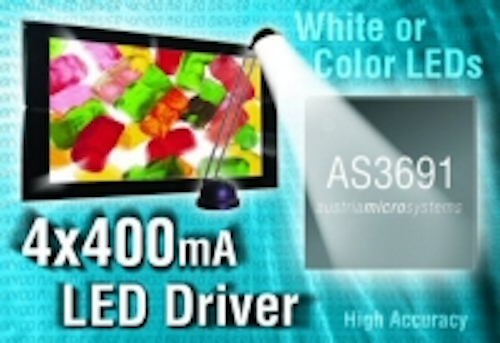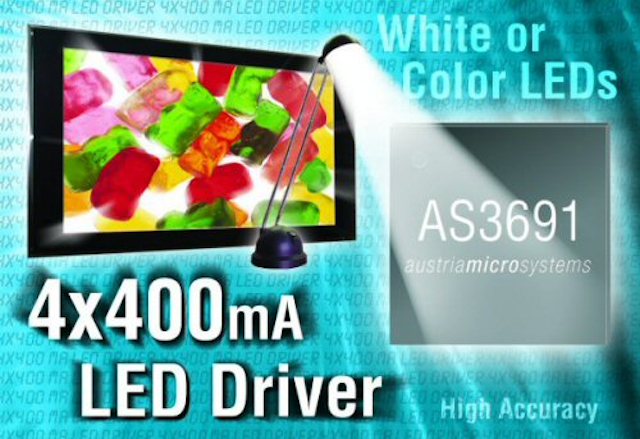 Date Announced: 31 Aug 2005
AS3691 is ideal for white and RGB high brightness LED applications
austriamicrosystems, a leading designer and manufacturer of high performance analog ICs, has extended its LED driver family with the addition of the AS3691 4x400mA LED driver, specially designed for the fast-growing high and ultra high brightness LED application market.
"The strong growth in high-brightness LED applications – for example, in general lighting or for LCD monitor backlighting – is currently served by universal LED driver ICs leading to suboptimal solutions," said Alexander Harrer, Sr. V.P. and General Manager of the Communications business unit at austriamicrosystems. "The AS3691 is ideally suited for white and color high brightness LED applications since it supports very high currents, and delivers outstanding accuracy with great flexibility and efficiency, while being very simple to use."
The AS3691 includes four independent high precision current sources each capable of sinking 400mA. The operating current per LED channel can be set easily via an external resistor while the LED brightness is controlled by four independent pulse width modulated inputs. The AS3691 integrates four independent current sinks per chip, enabling it to drive either four white LEDs each sinking 400mA or a single white LED with up to 1.6A.
"The ICs absolute current accuracy of 0.5% allows for highly accurate brightness settings and is thus ideal for support sophisticated color management applications like LCD monitors with RGB backlighting," explained Ronald Tingl, marketing manager for Power & Lighting Management at austriamicrosystems. "With four independent current sinks available, the AS3691 offers great flexibility in combining various color LED settings such as RGGB or RGBA strings. The current sources have a wide voltage compliance range of 15V and special internal circuitry allows for very high LED supply voltages that are limited only by the maximum power dissipation allowed for the entire application."
The AS3691's linear driver avoids issues that are typical of inductive boosters, like EMI, or flickering images that are particularly critical in LCD monitor applications.
To optimize the application's power efficiency, each channel includes a feedback output that enables simple adjustment of one or more external power supplies allowing overall power dissipation to be kept at a minimum.
The AS3691 is available in a small QFN4x4 package or as a die-only solution. Requests for samples can be made online at http://www.austriamicrosystems.com/03products/power_man_lighting.htm where there is additional product-specific information.
Contact
Sonja Pieber-Hascher Marketing Communications Manager austriamicrosystems AG A 8141 Schloss Premstaetten, Austria T. +43 3136 500 5968 F. +43 3136 500 5420 M. +43 664 380 83 72
E-mail:sonja.pieber@austriamicrosystems.com
Web Site:http://www.austriamicrosystems.com