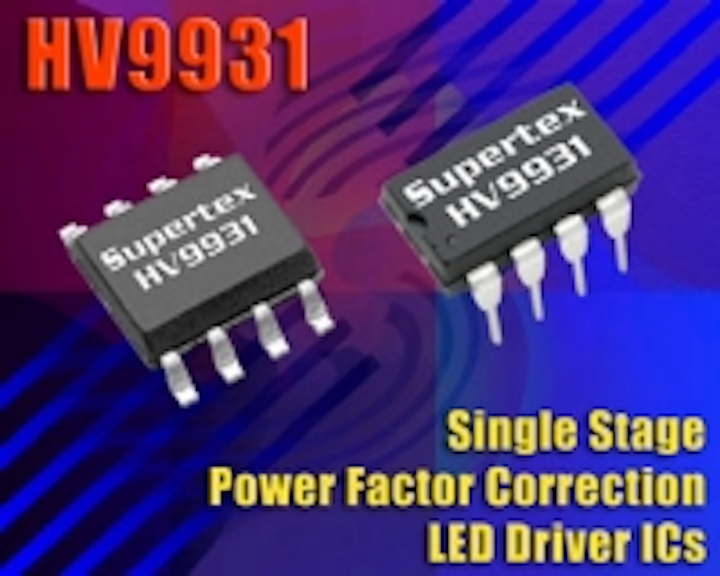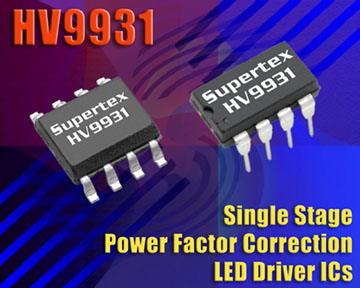 Date Announced: 16 Aug 2005
SUNNYVALE, Calif., August 16, 2005– Supertex (NASDAQ: SUPX), a recognized leader in high voltage analog and mixed signal integrated circuits (ICs), today introduced the HV9931, a fixed frequency, pulse width modulated (PWM), offline LED driver IC with power factor correction (PFC).
The HV9931 is designed to control an LED lamp drive using a proprietary, single stage, single switch topology. An internal 450V regulator allows the IC to work directly from a high voltage input, eliminating the need for additional external components and greatly simplifying the drive circuit design process.
The HV9931 is well suited for numerous LED lighting applications where PFC is required, such as: traffic signals; street lamps; offline LED lamps and fixtures; decorative lighting; and building accent lighting. Built-in phase dimming capability also makes this IC ideal for use with standard wall dimmers.
The HV9931 uses peak current control to regulate both the input and output currents, thereby eliminating the need for loop compensation in LED drive circuit designs. The patented topology of the HV9931 allows designers to use non-electrolytic capacitors in their applications to improve the reliability of their end products.
"Supertex continues to develop innovative solutions for the rapidly expanding LED lighting market, and the HV9931 offers numerous advantages for driving high-brightness LEDs," states Ahmed Masood, Director of Marketing for Supertex. "This powerful and versatile product strengthens our portfolio and further enhances Supertex's leadership position in the LED driver market."
The HV9931 is available in 8 pin SOIC (HV9931LG-G) and 8 pin DIP (HV9931P-G) packages. All parts are Green and RoHS compliant. Samples are available from stock. Lead-time for production quantities is 4-6 weeks ARO. Pricing is US$0.91 for the HV9931LG-G and US$0.87 for the HV9931P-G in 1K quantities.
About Supertex
Supertex, Inc. is a publicly held mixed signal semiconductor manufacturer, focused in high voltage interface products for use in the telecommunications, networking systems, flat panel displays, medical and industrial electronics industries. Supertex product, corporate and financial information is readily available at www.supertex.com.
Contact
Ken Vickers Marketing Communications Manager Supertex 1235 Bordeaux Drive Sunnyvale, CA 94089 408-222-4810
E-mail:kennethv@supertex.com
Web Site:http://www.supertex.com