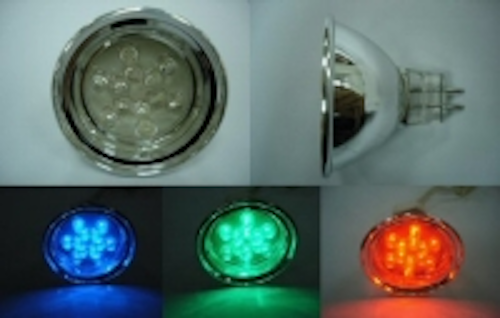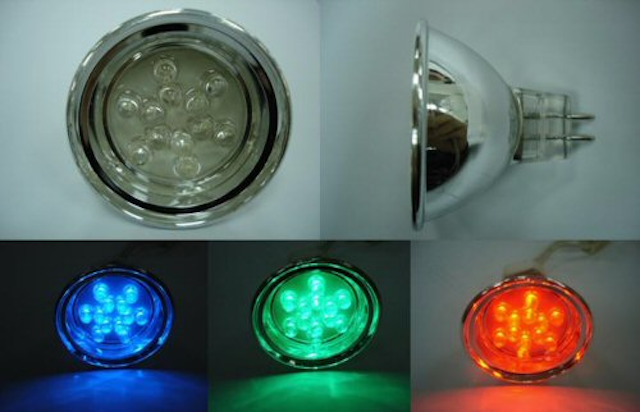 Date Announced: 08 Mar 2005
Para Light Corp. has introduced a family 12- and 21-LED lamps in the standard MR16 format for use in signage and a range of entertainment, architectural, landscape, display, and portable lighting applications.
Ideal for incandescent and fluorescent lighting replacement, Para Light's new MR-16 512 and 521 series LED lamps come in red (with an output of 4.6 lumens), green (16.5 lumens) and blue (3.5 lumens). The lamps are designed for an average life span of more than 100,000 hours – 30 to 50 times longer than incandescent lamps, with 90% power saving – are maintenance free, and contain no hazardous materials.
The socket drop-in 2-pin lamps have a GX5.3 base and measure 38 millimeters in length (including pins), with a front-lens diameter of 50 millimeters. Because they are specified for AC or DC 12-volt operation, the lamps can be used in existing low-voltage halogen lighten systems if required.
MR-16 series LEDs are available now, priced from $8 each in quantities of 1000. Delivery is 5 - 6 weeks.
Contact
Para Light Corp 515 Spanish Lane, Walnut, CA 91789, USA telephone 909-468-4866 toll free, 877-377-7272 fax 909-468-4876
E-mail:sales@paralight.us
Web Site:http://www.paralight.us