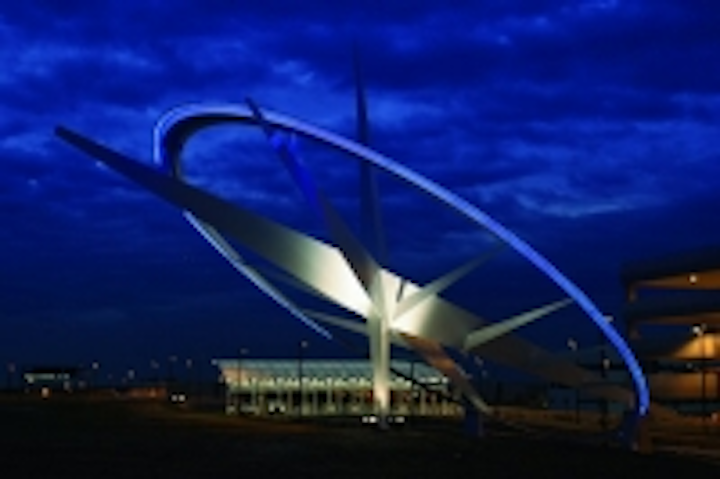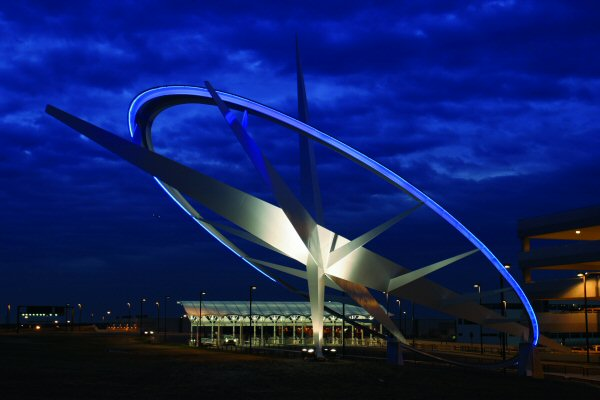 Date Announced: 23 Mar 2005
Picture: 'Icon to Powered Flight' at Raleigh Durham Airport.
Designers: Available Light and Urban Instruments.
Architectural Representative: Omni Lite of Boston, MA.
Picture credit: Michael Zirkle Photography.
A stunning new LED fitting has been introduced to the UK by the Light Projects Group.
Manufactured by US-based company ILight, Plexineon is a revolutionary new fitting designed for architectural accent lighting, cove lighting or for signage.
Plexineon is unique as it comprises a solid plastic waveguide with the LEDs encapsulated within. This results in a bright uniform glow across the entire length.
In addition, compared with fiber-optics, the use of LED technology ensures that the brightness level is formidable. This means the fitting has a similar appearance to traditional neon lamps but at a fraction of the maintenance and running costs.
A further advantage of Plexineon is its IP rating of 66 making it very water-resistant.
The range is available in six vibrant colours: blue, teal, green, amber, orange and red as well as three temperatures of white.
In addition, the fitting is far more resilient than traditional neon being extremely durable and shatterproof. It also runs at a very cool temperature allowing it to be sited near to flammable materials or within touching range.
Plexineon is available in rigid or flexible forms allowing it to be post-formed on site to curve around existing signs. Technical literature about the new Plexineon range is available from Light Projects Group.
Contact
UK: Light Projects Group Tel +44 (0)20 7231 8282
E-mail:info@leds.iop.org
Web Site:http://www.ilight-tech.com