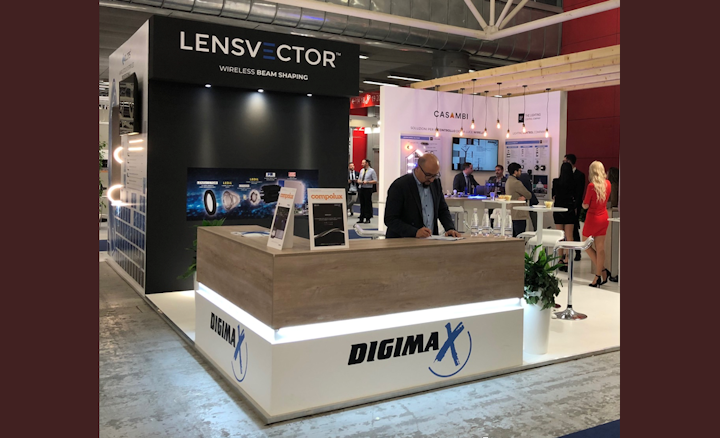 SAN JOSE, Calif. — LensVector and Digimax SRL have announced a new franchise agreement that enhances the availability of LensVector's dynamic beam shaping lenses to luminaire manufacturers throughout Italy and the Balkans.
"We're excited to have Digimax's energy and technical talents committed to the adoption of dynamic beam shaping," said David Kriebel, VP Sales and Marketing at LensVector. "Digimax can provide all of the ecosystem components and technical knowledge necessary to integrate LensVector quickly and efficiently."
"We've already seen several leading Italian luminaire providers deliver dynamic beam shaping, and we believe that it is one of the 'must-have' capabilities for most if not all LED spot lighting solutions," said Massimo Tirapelle, CEO of Digimax. "Our service in Italy, technical capabilities, and complementary components make it simpler for luminaire manufacturers to implement quickly."
About LensVector
LensVector is transforming the shape of light from fixed reflectors and lenses to LensVector's liquid crystal technology that enables light to be infinitely shaped and digitally controlled from IoT platforms, mobile devices, and modern control systems. LensVector's innovative Dynamic Beam Shaping technology was recognized at the 2018 Sapphire Awards, the 2019 Lux Awards, and as a Top Ten Innovation at the Light + Building Conference and Exhibition.
About Digimax SRL
Digimax Group is a leading full-service distributor of power supplies, industrial PCs, LED products, displays and electronic components. Based in Italy, Digimax serves the entire Adriatic Ionian Euroregion. Digimax provides customers with the best-integrated solutions through a single supplier and offers specialized consulting and technical services. Digimax is continuously working to ensure its customers receive superior service and the best solutions that meet their needs.
Contact:
David Kriebel
LensVector
Email:
Web site: