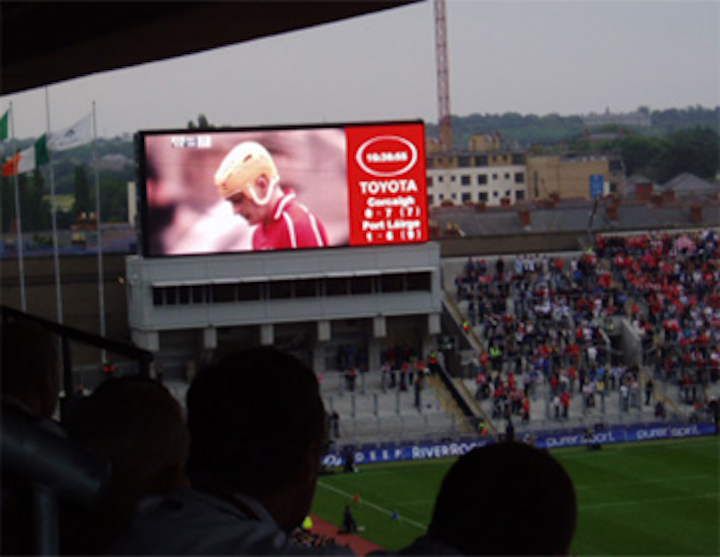 According to the General Administration of Sport of China, the global sports industry showed a sustained growth pattern from 2006 to 2012, and the comprehensive development of modern society led to the take-off of sports. Sports have become so popular that the traditional Scoreboards in most stadiums have been replaced by LED displays, such as LED Perimeter Boards and LED Scoreboards. LED display quietly occupied the main advertising space of the stadium, audience who have watched the game would not be unfamiliar with LED display. Under normal circumstances, the multi-functional gymnasium can meet the large-scale dance, artistic performance, and various sports competitions and other large-scale activities, and the LED display screen on the overall effect of the stadium play a vital role. Common LED displays in stadiums include LED Perimeter Boards and LED scoreboards.
LED scoreboards can be used for live streaming of game times and live events, recording live highlights, close-up shots, and giving viewers the perfect visual feast. LED displays not only break down seat restrictions and make it easier to watch games from a distance, but also connect judges to a timing and scoring system, allowing slow-motion replay to help judges make correct decisions and maintain the principle of fairness and justice in the game.
When powered up, LED scoreboards are easy to use, high brightness, low power consumption, high grayscale, and colorful to ensure the best display.The indoor and outdoor LED scoreboard developed by YUCHIP can be well used in various environments, with a service life of up to 100,000 hours and a viewing Angle of 160°, ensuring that spectators in the stadium can have a good viewing experience. YUCHIP has many success stories in the field of LED scoreboards, with a total area of 350㎡ in this project of Hungary. This is a rental led display that can be faceted or curved. Some cabinets are used as LED scoreboards, and some are used as stage LED displays. The cabinet size can be customized according to any scene. YUCHIP has a professional equipment and service team, from the installation of products to debugging, can be adjusted according to any on-site customer needs. With high quality products and professional knowledge, YUCHIP offers the most cost-effective solutions to customers. Similar projects can be found in Hungary, France, India, Germany, England, Italy and Turkey.
LED Perimeter Boards are designed to be used within the Perimeter of the pitch. The Perimeter advertising messages can effectively cover the entire pitch and can be displayed in bars of any length. LED Perimeter Boards adopts a new mask design which makes the light emitted by the LED almost reflect zero to ensure the display effect of the screen body. The soft materials on the top of the LED Perimeter Boards and the soft mask design adopted by the module protect the screen body and prevent athletes from accidental injury. The LED Perimeter Boards are designed to be independent and adjustable so that the LED Perimeter Boards can be tilted according to the audience's perspective. Support synchronous broadcast of ads; IP65 protection level ensures good waterproof effect; 65536 high grayscale can provide vivid and exquisite display effect; Brightness up to 6500nit can display video clearly in outdoor sunlight. With a high quality IC, the refresh rate is up to 4800Hz, which can perfectly display beautiful pictures taken by HD cameras. Reasonable dimensions and snap connectors between boxes make LED Perimeter Boards easier to install and remove, with an average installation time of only about 3 hours. Also to facilitate rapid movement, LED Perimeter Boards have wheels on the bottom. LED Perimeter Boards is equipped with dedicated stadium playback software to make it easier for users to manage and play content. Humane design of LED Perimeter Boards left a great impression on both customers and audiences.
The most common types of LED Perimeter Boards are P5, P6, P8, and P10, which are widely used in advertising around stadiums. While enjoying the wonderful games, the audience can watch the advertisements playing on a loop, which perfectly combines sports competition with commercial advertisements. YUCHIP has rich practical experience and many successful projects in the area of LED Perimeter Boards and LED scoreboards. There are successful cases in Malaysia, Nigeria, Belgium, Turkey, Germany, Brazil, Italy, Azerbaijan and other countries. High-quality products, rich color presentation effect and real-time live broadcast of the game, not only help the stadium organizers and sponsors to improve the brand image, but also provide an unforgettable experience for every audience.
Contact:
YUCHIP
WhatsApp & Wechat: 008613798508687

Email:
Web site: