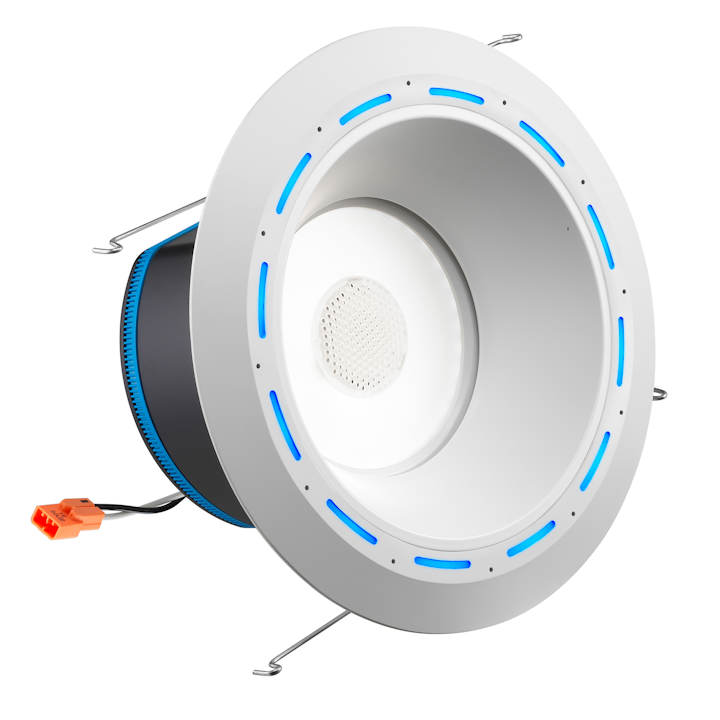 Juno AI™ gives builders an easy and profitable entry into the smart home category.
ATLANTA – Juno®, an Acuity Brands company, announces the immediate availability of Juno AI™ – an advanced, patent-pending portfolio of smart home lighting fixtures. The flagship product, Juno AI Speaker Light with Alexa built-in, is the only smart home product to integrate four advanced technologies – the Alexa voice service, high performance JBL® speakers, sophisticated lighting controls and Juno LED lighting – into a single ceiling light fixture.
The Juno AI downlight with Alexa built-in can order pizza, play music and playlists, and control other Juno AI downlighting in and around the home – including dimming the lights to set the mood and adjusting color temperature from warm to cool. Juno AI connects to any Alexa-enabled smart home devices­ – lawn sprinklers, vacuums, security cameras, ambient lighting and much more ­– through simple voice commands.
According to a Coldwell Banker survey, 63 percent of potential homebuyers want smart lighting products already installed in their future homes. "Consumers want smart homes, and we designed the Juno AI family so home builders can easily meet consumer demands while keeping profit margins top of mind," says Jeff Spencer, Acuity Brands Lighting Vice President and General Manager Smart and Connected Devices. "With Juno AI, builders can effectively scale their smart home solutions – from wireless, controllable LED lighting, to a complete smart home ecosystem and everything in between. And the smart lighting products are extremely easy to install."
Ed Brown, vice president of construction/purchasing for Avid Ratings Cup Award-winning Arthur Rutenberg Homes, agrees. "Juno AI is simplistic in design and convenient. It brings together a lot of the high tech features our customers want in something that already exists – the lights," he says.
Juno AI Collection
The portfolio comes in a 6" standard downlight size for easy retrofit or new construction.  Electrical contractors can easily install and wire Juno AI products for immediate use and connectivity without the need for smart home specialists, reducing installation costs. Homeowners can program Juno AI products with their mobile device through the free Juno AI app. The cohesive portfolio features the Juno AI LED Speaker Light and the Juno AI LED Downlight. Both connect seamlessly to the Juno AI Speaker Light with Alexa built-in or Amazon Echo devices to enhance the smart home experience.
Juno AI products are now available nationwide through Acuity Brands lighting agents, showrooms and electrical distributors.
About Acuity Brands
Acuity Brands, Inc. (NYSE: AYI) is the North American market leader and one of the world's leading providers of lighting and building management solutions. With fiscal year 2018 net sales of $3.7 billion, Acuity Brands currently employs approximately 13,000 associates and is headquartered in Atlanta, Georgia with operations throughout North America, and in Europe and Asia. The Company's products and solutions are sold under various brands, including Lithonia Lighting®, Holophane®, Aculux®, American Electric Lighting®, Antique Street Lamps™, Atrius™, DGLogik™, Distech Controls®, DTL®, eldoLED®, Gotham®, Healthcare Lighting®, Hydrel®, Indy™, IOTA®, Juno®, Lucid®, Mark Architectural Lighting™, nLight®, Peerless®, RELOC® Wiring, ROAM®, Sensor Switch®, Sunoptics® and Winona® Lighting.  Visit us at www.acuitybrands.com.
Contact:
Neil Egan, Director of Communications
770.860.2957
Email:

Web site: