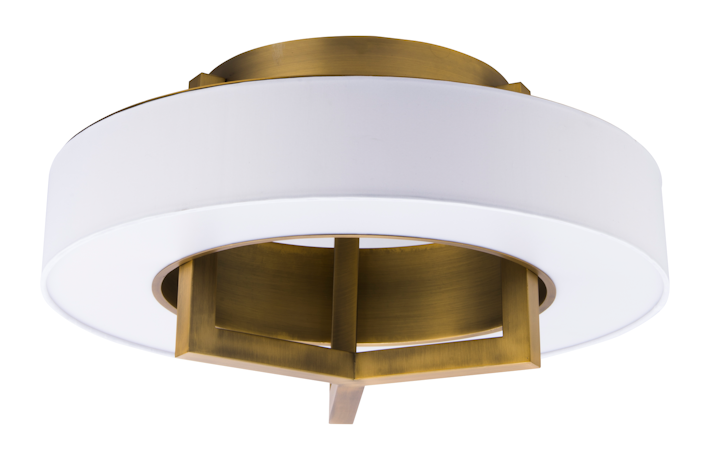 Port Washington, New York –  Madison LED Flush Mount by dweLED combines mid-century modern style with forward-thinking LED technology. A light fabric shade is combined with acrylic for a multi-faceted design.
Featuring an internally sealed driver, this beautiful fixture is compatible with both ELV and TRIAC dimmers. This ceiling luminaire is available in aged brass and brushed nickel finishes, with size options ranging from 16 to 28 inches.
The eco-conscious Madison Flush Mount boasts bright 3000K color temperature with a rated life of up to 50,000 hours. Up to 2250 lumens are delivered from this 23-Watt luminaire.
Two finishes are offered— aged brass and brushed nickel.
About dweLED by WAC Lighting
The dweLED collection from WAC Lighting is all-LED technology driven with a design fit for residential, commercial and healthcare spaces. WAC's dweLED has merged a contemporary and transitional style with functional, energy efficient indoor and outdoor lighting that you will love. Mid-upscale homes with transitional home décor, multifamily high-rise development or assisted living residences. The dweLED collection has options to meet both indoor and outdoor LED lighting needs. dweLED offers nostalgic design elements, beautiful and visually interesting hardware with quality finishes and substantial illumination.
About WAC Lighting
WAC Lighting is a second generation family owned and operated lighting company with a reputation for quality spanning over 35 years. With a history of inventing and looking at things from a fresh perspective to make technology leveraged products widely accessible, WAC Lighting believes that a key part of being a Responsible Lighting company is to provide a product offering that is progressive in both design and technology. Groundbreaking innovations in LEDs, materials engineering and creative optical design are paving the way for endless possibilities.
WAC Lighting Global Headquarters is located in Port Washington, New York, with Factories in New York, California, and Georgia, as well as China. WAC Lighting can be reached at 1.800.526.2588 or by visiting www.waclighting.com.  
Contact:
WAC Lighting
1.800.526.2588
Web site: