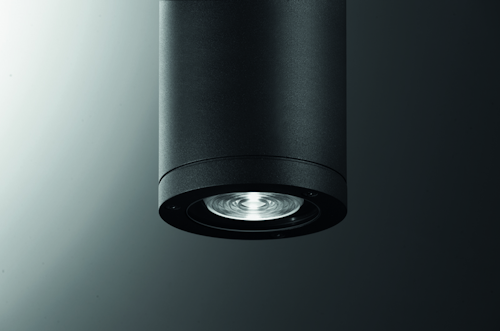 Landa Illuminotecnica is a company from Brescia, founded in 1987 and specialised in outdoor lighting. An international vocation since its establishment, with the will to define new relationships between technology and Made in Italy design. Lyras is part of this vision. A solution designed harmonically in all its forms.
Lyras enchants with the versatility of a melody with numerous applications. Wall, ceiling or as a projector, they reflect the modern expression of a product designed to be essential. The Lyras family, characterized by clean and minimal shapes, is born to provide lighting devices that can make light resurface, in a volumetric and distributive way, in both residential and commercial external spaces.
For wall applications, reliability is ensured by Lyras 80 and Lyras 130. A cylindrical body in die-cast aluminium for both of them, with 70SH EPDM gaskets on each coupling so to ensure continuous safety towards any external agent. A graphite or light grey finish, for more variegated installations possibilities, accompanies the choice of the two solutions. Lyras 80, more compact, fits a single emission power of 4W or a double one of 9W, an 8 mm extra-clear tempered glass and the use of thermoplastic reflectors with a special high vacuum metallization surface treatment. The spot, medium or wide flood optics, both single and double emission for a unique lighting output for Lyras 130 too, proposed with a 13 mm glass and 10W single emission and 20W double emission. 

Eyes up for the ceiling applications. There are three the solutions for a perfect, impressive diffused lighting effect for outdoor environments.
Lyras 65, available with spot, flood and diffused light beams and with a 6W power, is presented with a double power supply possibility: 220-240 Vac or 24 Vdc. The 8 mm extra clear tempered glass diffuser defines the versatility and the range of aesthetic choices safely clad in a special treatment resistant to corrosion, typical of Landa products.
A zenith light beam for Lyras 80, with an ultra efficient and never invasive character. The body, in die-cast aluminium, turns out to be extremely reliable and suitable for outdoors thanks to a high grade of protection IP66 and IK08 and is equipped by an A++ energy efficiency class, a quality that characterizes all the products of the Lyras family. In the same family there's Lyras 130, a single emission cylinder that is presented with three types of optics: spot, medium and wide flood ones. Ten is the number that distinguishes it, 10 are the watts of power as 10 are that millimeters of diameter of its tempered glass. Great resistance to external agents and to oxidation, as for all the Lyras family, thanks to the materials with with it is made: 70SH EPDM gaskets, EN-47100 die-cast aluminium and EN AW6060 extruded aluminium body.
Make room to the luminous soul of Lyras with the four solutions offered by as many projectors with a pronounced personality, perfect for an impressive light of the façades. A strongly tech design, with clean and, at the same time, sinuous lines, re-designes the Landa's approach to outdoor lighting with the class of aesthetic minimalism. The entry level of the surface range is represented by Lyras 35. Due to its 2W power, its small size and an extra-clear polycarbonate screen, it is perfect to give light to small and medium spaces. Lyras 45 follows it, a compromise between compactness and technical performance. 2W of power, 6 mm extra-clear tempered glass screen and flood, spot and diffuse optics are accompanied by bronze and inox finishings for a strong scenic character and a great nature of integrability. Third, not in a competitive order, it Lyras 65. With a complex personality, it presents itself to the audience in two versions: with 220-240 Vac power supply with medium or diffuse optics or 24 Vdc with spot, flood and diffuse optics. To complete this product, an 8 mm extra-clear glass screen that offers infinite luminous effects to meet every design need. Lyras 65 is definition and power, at the same time.
Finally, the Projector. In Lyras 160, Landa shows off the summation of technical competences and productive quality of Made in Italy. Lyras 160 speaks the language of the outdoors of any size. A powerful light, with 20W or 30W, a compact cone with intense ray and an A4 stainless steel body make it unique of its kind.
All the Landa luminaires are designed to reduce maintenance operations thanks to specific anti-oxidation treatments, for an ingenious combination of strength and aesthetics, making quality, performance and Made in Italy the essential advantages, so that they are always at the forefront in the lighting field.
Contact:
Landa Illuminotecnica
Email:
Web site: