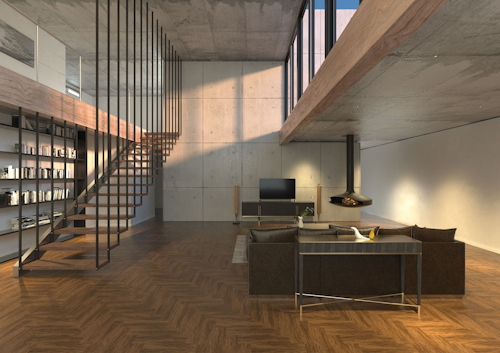 Buzzi & Buzzi, a Lombard company that has established itself as an international leader in the lighting sector, has always been devoted to research and experimentation. GENIUS CONCRETE, the new luminaire in the Genius family, is the result of this approach and of a culture aimed at creating ingenious lighting systems.
Designed for exposed cement surfaces, as its name suggests, it can be installed during the concrete casting phase. The luminaire consists of a pre-galvanized aluminium box measuring 160 x 200 x H 70 mm that makes heat dissipation inside the concrete possible, and a cylinder measuring Ø 23 x H 60 mm, that makes it possible both to position the LED module correctly and to slide it during maintenance.
Totally disappearing and perfectly integrated in the lighting setting right from the start, GENIUS CONCRETE becomes an essential product for architects and designers as a design choice. In fact, it is installed directly on site, thanks to the anchorage of the box, equipped with four ad hoc brackets, for reinforcing the concrete.
With an accurate LED direction, given by an only 23 mm emission hole, that preserves all the characteristics of the GENIUS family; the simplified lamp body of this luminaire functions as a disposable box, with the electrical part extractable from the light hole. All this thanks to a new push & pull patent that allows both the removal and the replacement of the LED source, without having to remove the structure from its place. No inspection box required for the maintenance, therefore: an advantage given by a functional design, oriented to make the nature of concrete no longer an obstacle for designers and architects. 
In its name, GENIUS CONCRETE carries the promise of a luminaire capable of revolutionizing the invisible output of the indoor light. In a few centimetres, disappearance is total to ensure both visual and aesthetic comfort, to outline living or commercial spaces without invading them. A downlight with a 90° beam, with a 22° emission angle which, just like all the Buzzi & Buzzi products, represents a conscious use of energy provided by an A++ energy efficiency class.
The lighting design by Buzzi & Buzzi is devoted to a responsible study of materials, technology and continuous improvement of the design approach for a human management of light.
●      IP40 protection grade
●       Light inclination: 90°
●       Light emission hole Ø 23 mm
●       COB professional LED source  - LED 6W 500mA 130 lm/W
●       LED colour temperature: 3000 K (on demand 2700 K - 4000 K)
Buzzi & Buzzi
Founded in 1990, Buzzi & Buzzi is a company specialised in the creation of indoor and outdoor hidden lighting devices, often designed by renowned designers and architects. The perfect symbiosis of technique and design is the key element of Buzzi & Buzzi products, giving life to innovative lighting concepts, from an aesthetic yet also functional and technological point of view. Nationally and internationally renowned, the company stands out for its profound attention to innovation, for its research of new sustainable materials and for continuously improving the quality of its products and services.
Contact:
Buzzi & Buzzi
Email:
Web site: