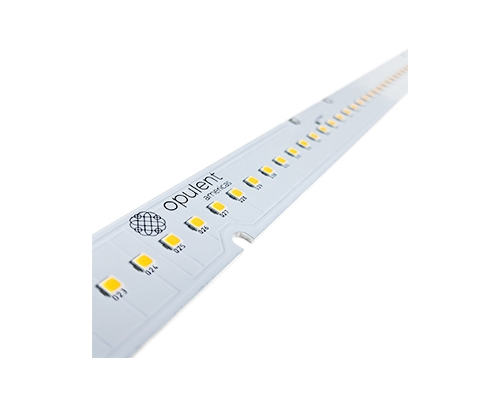 Raleigh, NC - Opulent Americas, a fully integrated global manufacturer for the lighting, automotive, and medical industries, is excited to announce the product line addition of linear LED modules built with the new Osram Osconiq S 3030 Quantum Dot LED.  
The Osconiq S 3030 QD was specially developed to enable customers to design luminaires with high efficacy and excellent color rendering for area lighting and downlight applications. The modules come in a 22" configuration that is ideal for panel or linear lights. They are flexible enough to support a range of specialty indoor applications and can be paired with a.standard driver for a complete light engine. Designed to Zhaga standards, Opulent Americas' modules are easy to integrate into existing designs and can be quickly upgraded as LED performance improves.
Standard solutions can be purchased through Opulent Americas' distributors, Digikey, Arrow, Mouser and Avnet.  For custom solutions contact info@opulent-americas.com.
About Opulent Americas
Opulent Americas accelerates the adoption of LED technology through simple, modular products and custom designs. Through 30 years of experience, state of the art manufacturing, full traceability and advanced quality controls, Opulent offers leading solid state lighting components, modules and custom solutions. Opulent Americas operates facilities globally with ISO certifications for the LED lighting, automotive and medical industries. Our North Carolina based office provides quick engineering & sales support with an R&D lab for prototype development and custom solutions. Our in-house global manufacturing capabilities allow for both building in the United States as well as overseas at scale. 
Contact:

Colleen Kramer
Opulent Americas
Email:

Web site: