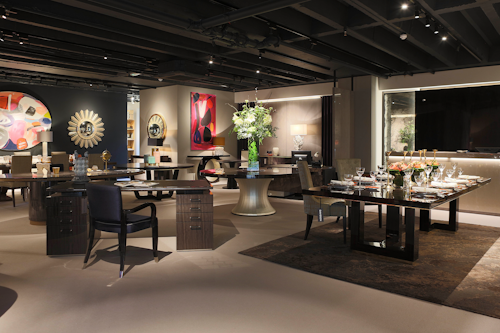 Reggiani's Yori Evo fittings were the perfect choice when DAVIDSON, London, wanted to change their LED lighting system throughout their prestigious showroom at the Design Centre in Chelsea Harbour.  The family-run company design, manufacture and install bespoke high-end furniture and work with interior designers, architects, project managers and private clients to provide elegant, unique pieces worldwide.
The original lighting system incorporated wide-beam spotlights that created unwanted glare on the furniture on display and didn't show the exquisite pieces to their best potential.  Lighting Design International (LDI), Hammersmith, London, were approached with a brief to find the right specification of spotlight to eliminate the glare issues and literally show the space in a new and better light.  LDI chose Reggiani's Yori Evo Box system for its excellent CRI, a good range of beam angles and the excellent assortment of accessories to choose from to achieve the perfect illumination via honeycomb louvres and softening lenses.
Working closely with Reggiani, LDI devised a system using a mixture of narrow and medium-beam matt black spotlights that would 'pinspot' and highlight each piece of furniture and decorative artefacts on display to make them stand out and provide real impact throughout the showroom. Using a 3-circuit track clip-in system in 2 and 3-metre lengths, the medium-beam spots were interspersed between narrow spots over the furniture specifically arranged to highlight each individual display area within the showroom. Spotlights equipped with a softening lens were used on the wall art with some spotlights fitted with honeycomb louvres for other areas in the showroom to diffuse any glare.
Emily Bedwei, Senior Designer at LDI, commented: "We reviewed many lighting systems but Reggiani's Yori Evo ticked all the boxes thanks to its high CRI and the wide range of beam angles and accessories available which we knew would allow us to get the right illumination.  Reggiani's Major Projects Manager also assisted us with valuable input.  The showroom could only be closed for refurbishment one day so our lead time and getting the system onsite were tight, but Reggiani were able to accommodate this."
WE ARE REGGIANI, THE ILLUMINATION COLLECTIVE
Established in 1957, Reggiani is now an International benchmark in the lighting industry, a community of lighting experts that provides its customers with cutting-edge technological solutions with an open, collaborative and problem-solving approach. The constant development of innovative products and the expertise gained in over 50 years of activity in the field has outlined an increasingly open exchange with the world of lighting designers and architects, with whom Reggiani has established a relationship founded on sharing ideas and best practices and to whom Reggiani provides solutions and support to meet any creative requirement. Reggiani has a widespread distribution in 80 Countries worldwide and its offices in Italy, USA, UK, China, France and Russia cover an area of 110,000 m2, including areas devoted to production, offices, showrooms and warehouses.
Contact:
Reggiani Spa Illuminazione
Email:
Web site: