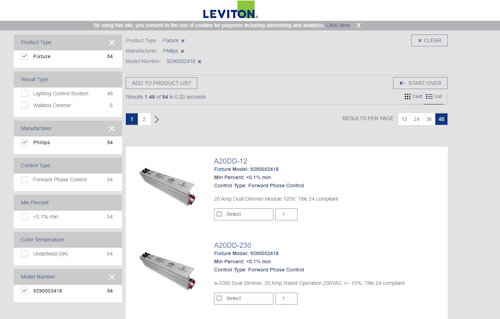 New resource simplifies customer selection of Leviton controls for use with Leviton lighting fixtures for commercial applications
Melville, N. Y. – Leviton announced its new Fixture Dimmer Compatibility Tool, an online resource developed to make it simple for lighting agents, specifying and electrical engineers and architects to select the exact dimmer and lighting controls appropriate for use with specific Leviton lighting products. The tool offers users assurance that they have selected the dimmer designed for use with their selected Leviton fixtures.
Modeled after Leviton's LED Compatibility Selector Tool, this new dynamic tool allows users to easily find fitting controls by searching fixtures by model number, color temperature or manufacturer – all while directly linking to Leviton products. It is as simple as identifying the fixture and finding its compatible control.
"Identifying the appropriate controls from the wide array of choices can be challenging, and this tool greatly simplifies that process, giving an exact match for the specific Leviton lighting product" said Tom Leonard, vice president, Marketing and Product Management for Leviton Energy Management, Control & Automation. "At Leviton, it's important to us to offer our customers not only great products, but simplicity in selecting those products, and that's what this new tool delivers."
The Leviton LED Compatibility Selector Tool webpage allows customers to choose between residential and commercial solutions with each page featuring additional buying and selection guides and other resources to educate customers and help them find the best solutions. Customers can also submit a request to have their fixtures tested for compatibility with Leviton commercial controls.
To access the Leviton Fixture Dimmer Compatibility Tool, visit www.leviton.com/LED.
About Leviton Lighting
Leviton Lighting provides professional lighting and wireless control solutions for architectural, commercial, and residential applications throughout North America and the United Kingdom. The diverse lighting portfolio consists of innovative products from four distinct lighting hardware brands which are Birchwood, ConTech, Intense, JCC, and their fifth controls platform brand, Intellect. Each individual brand offers quality lighting and an integrated control solution developed for specifiers, distributors, and end-users. For more information about Leviton Lighting solutions, visit: www.leviton.com/lighting.
About Leviton
Every day, Leviton is engineering possibilities that make the future happen, meeting the needs of today's residential, commercial, and industrial customers globally. From electrical, to lighting, to data networks, and energy management, Leviton develops thoughtful solutions that help make its customers' lives easier, safer, more efficient and more productive. Driven by its commitment to its customers, the ingenuity of its employees and the safety and quality of its products and solutions, with Leviton, the FUTURE IS ON. For more information, visit http://www.leviton.com/, www.facebook.com/leviton, www.twitter.com/leviton,  or www.youtube.com/Levitonmfg.
Contact:
Leviton
Email:
Web site: