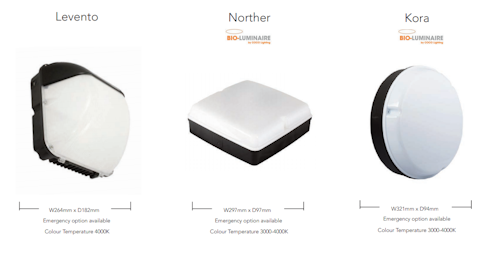 Coco Lighting's LED range is first to achieve this Kitemark for safety and performance
BSI, the business improvement company, has today launched the BSI Kitemark for Commercial Lighting to help commercial lighting manufacturers demonstrate that their products meet the highest possible standards for quality, safety and performance.

In a competitive marketplace, it's vital that commercial lighting manufacturers can differentiate their products from competitors. Whilst many manufacturers already demonstrate that their products meet the necessary safety requirements, this new scheme includes a series of performance tests to ensure that the product will perform as it should throughout its lifecycle. The voluntary scheme, developed by BSI in partnership with the LIA (Lighting Industry Association) will enable organizations to access new markets, as well as help to reduce the cost and time associated with product recalls and returns.
The first products to be independently assessed against the scheme include several of Coco Lighting Ltd's internal and external LED bulkhead ranges.
Kevin Cooper, Managing Director at Coco Lighting said: "We're thrilled to be the first organization to achieve this Kitemark. The BSI Kitemark is one of the most recognizable trust marks in existence today and demonstrates that the products we've had tested go above and beyond the normal requirements to achieve the highest standards.
"We are committed to ensuring our products are as safe as possible for users. By achieving this Kitemark, we are also able to demonstrate that our tested products in this range will continue to perform as they should."
In order to achieve the BSI Kitemark for Commercial Lighting, products are assessed against the BS 60598 luminaires safety series of standards1, as well as the BS 62722 luminaires performance standards2. Organizations will also need to undergo an independent factory assessment from BSI. As will other Kitemark schemes, products will be tested annually to demonstrate ongoing compliance. Whilst internal and external LEDs are the first products to achieve the Kitemark for Commercial Lighting, flood lights, street lights, recessed office lighting and standard lighting for commercial buildings can all be assessed.
BSI has engaged the services of the LIA to complete part of the product assessment for this scheme. The collaboration will enable both parties to share their extensive expertise in assurance and testing respectively and is part of a broader partnership which will see both parties develop Product Testing and Certification solutions for the lighting industry.
Graham McKay, Global Head of Gas & Electrical Products at BSI said:
"We are committed to helping manufacturers deliver lighting products that are highly efficient, safe to use and crucially will perform as they should. We are delighted that Coco Lighting Ltd is the first organization to achieve the BSI Kitemark for Commercial Lighting for its products."
"The BSI Kitemark is a symbol that around 70% of the British public recognize, and one that has given millions of Britons over the last century the knowledge and comfort that the products they come into contact with are safe and reliable."
For more information, please visit https://www.bsigroup.com/en-GB/our-services/product-certification/industry-sector-schemes/lighting-kitemark-schemes/bsi-kitemark-for-commercial-lighting/
Notes to Editors:
1BS EN 60598-1 Luminaires. General requirements and tests, BS EN 60598-2-1 Luminaires. - Part 2-1: Particular requirements - Fixed general purpose luminaires, BS EN 60598-2-2 Luminaires. Particular requirements. Recessed luminaires, BS EN 60598-2-3 Luminaires. Particular requirements. Luminaires for road and street lighting, BS EN 60598-2-5 Luminaires. Particular requirements. Floodlights
2BS 62722-1 Luminaire performance. General requirements and BS EN 62722-2-1 Luminaire performance. Particular requirements for LED luminaires
About BSI
BSI is the business improvement company that enables organizations to turn standards of best practice into habits of excellence. For over a century BSI has championed what good looks like and driven best practice in organizations around the world. Working with 84,000 clients across 193 countries, it is a truly international business with skills and experience across a number of sectors including aerospace, automotive, built environment, food, and healthcare. Through its expertise in Standards Development and Knowledge Solutions, Assurance, Regulatory Services and Professional Services, BSI improves business performance to help clients grow sustainably, manage risk and ultimately be more resilient.
To learn more, please visit: www.bsigroup.com
About BSI Kitemark™
Originally used solely in the UK, the BSI Kitemark is now recognized throughout the world as a mark of quality and safety which offers true value to consumers, businesses and procurement practices. A recent consumer survey showed that nearly 70% of British consumers have awareness of BSI Kitemark.
A product or service with BSI Kitemark certification proves that it has been independently and rigorously tested, giving consumers the confidence that it goes above and beyond standard levels of quality, and can be trusted to meet the highest levels of safety and reliability. The consumer survey shows that 60% of customers are willing to pay up to 26% more for goods and services displaying the BSI Kitemark.
The BSI Kitemark is a registered trade mark, owned and operated by BSI; there are currently around 3,395 registered BSI Kitemark licences. With UKAS accreditation, the benefits to BSI Kitemark clients include risk reduction, increased customer satisfaction and access to new customers around the world.
Contact:
BSI
+44 345 0765 606
Email:
product.certification@bsigroup.com
Web site:
https://www.bsigroup.com/en-GB/