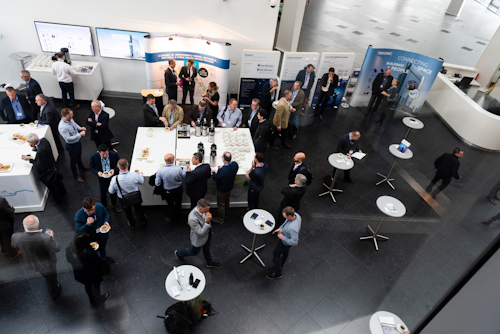 In the second of a two-part conference, Tridonic has once again gathered together an amazing line-up of industry experts that specialise in the subject of Smart Buildings. The second conference entitled 'Helping to Make Intelligent Buildings Become Smart' took place in London on 3rd October with the aim of providing attendees with the very latest developments in this sector.
The first conference, held in June, entitled 'Component to Solutions' proved extremely popular with Tridonic's OEM customers with the second event also proving to be a great success.  The first event discussed 'how to understand your segment' and followed the launch of the company's new Connected Lighting Academy which has been designed to support OEM customers and help them understand more about the opportunities for connected lighting and integrated lighting solutions.
For the second event, Tridonic approached 150 consultants, developers, OEMs, architects and contractors who listened to key speakers from a variety of 'solution provider' companies and partners of Tridonic presenting on topics such as The Digitalisation of Buildings, Self-Powered IoT and Energy Efficient Buildings that utilise DC power from Solar panels for PoE lighting, proving that lighting really is the backbone to any smart building. Hosted by Simon Blazey UK Strategic Solution Sales Manager, the event also saw the launch of the company's Connected Outdoor solution with Tridonic's Waldemar Becker discussing the creation of Urban Value with intelligent lighting.
The value of this truly unique event was reflected in the status of the key speakers and the input they were able to bring to the conference. Following the event, Simon Blazey commented "The conference was extremely well received by delegates and it provided everyone with food for thought and a great opportunity to network and enjoy the ongoing discussions after the event".
Contact:
Tridonic UK Ltd
Tel: +44 01256 374300
Email:
Web site:
About Tridonic
Tridonic is a world-leading supplier of lighting technology, supporting its customers with intelligent hardware and software and offering the highest level of quality, reliability and energy savings. As a global driver of innovation in the field of lighting-based network technology, Tridonic develops scalable, future-oriented solutions that enable new business models for lighting manufacturers, building managers, systems integrators, planners and many other types of customers.
To promote the vision of the "Internet of Light", Tridonic relies on partnerships with other specialists. The goal is the joint development of innovative technological solutions that convert lighting systems into intelligent networks and thereby enable associated services. Its profound, technical industry expertise makes Tridonic an ideal partner for established brands and for newcomers to the market.
Tridonic is the technology company of the Zumtobel Group and is headquartered in Dornbirn, Austria. In the 2017/18 tax year, Tridonic generated sales of €352.7 million. 1,690 highly skilled employees and a worldwide sales presence in over 50 countries reflect the company's commitment to the development and deployment of new, smart and connected lighting systems.