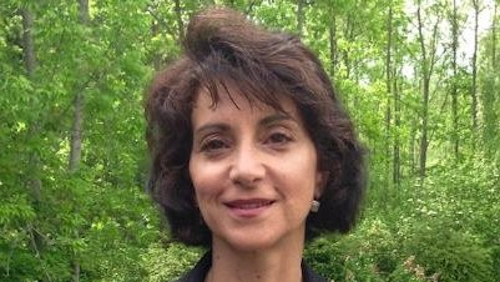 The Lighting Research Center (LRC) at Rensselaer Polytechnic Institute welcomes Janet Joseph as the ENERGY keynote speaker for the 2019 Summit, October 15-17 in Troy, New York. Ms. Joseph will discuss New York's nation-leading climate agenda and Green New Deal in her keynote titled, "New York's Climate and Clean Energy Agenda: Building the Grid of the Future."
Ms. Joseph is the Senior Vice President for Strategy and Market Development at the New York State Energy Research and Development Authority (NYSERDA). She leads NYSERDA's work in building decarbonization, advancing programs and policies to deliver a carbon-neutral building stock. Ms. Joseph has more than 28 years of experience in clean energy. She has held technical, policy and leadership positions at NYSERDA, where she has spearheaded initiatives to develop solar and renewable power, build a cleantech startup industry, launch energy storage collaboratives, and identify greenhouse gas reduction strategies that provide benefits for New Yorkers. Prior to joining NYSERDA, Ms. Joseph was a research scientist at Battelle Pacific Northwest Laboratory.
Ms. Joseph serves on the Boards of the Northeast Energy Efficiency Partnerships, Urban Green, New York State Center for Future Energy Systems, and the Urban Futures Lab. She has a Master's degree in Environmental Chemistry from the University of Maryland.
Panel Discussion: Lighting and the Grid
As part of the Summit, the LRC is bringing together leaders in lighting and clean energy for a panel discussion on connected lighting's potential to be a strategic part of the future electric grid. Panel members include Jerry Duffy, General Manager at GE Lighting, Chris Wolgamott, Senior Product Manager for Commercial and Residential Lighting at the Northwest Energy Efficiency Alliance, and Francis Rubinstein, Principal, RubyLight Consulting and former Staff Scientist at the Lawrence Berkeley National Laboratory.
A full list of programming, along with speaker bios and descriptions of each talk, is available at the LRC Summit website: https://www.lrc.rpi.edu/summit
Register today!
The LRC Summit is free for LRC Partners, Alliances, and LRC Members. Please contact Rebekah at mullar2@rpi.edu to register.
Sponsorship Opportunities
The LRC has a new Member program exclusive to organizations who want to take a more active leadership role in shaping the future of lighting. Learn more at www.lrc.rpi.edu/LRC_Membership.pdf

About the Lighting Research Center
The Lighting Research Center (LRC) at Rensselaer Polytechnic Institute is the world's leading center for lighting research and education. Established in 1988 by the New York State Energy Research and Development Authority (NYSERDA), the LRC conducts research in light and human health, transportation lighting and safety, solid-state lighting, energy efficiency, and plant health. LRC lighting scientists with multidisciplinary expertise in research, technology, design, and human factors, collaborate with a global network of leading manufacturers and government agencies, developing innovative lighting solutions for projects that range from the Boeing 787 Dreamliner to U.S. Navy submarines to hospital neonatal intensive-care units. In 1990, the LRC became the first university research center to offer graduate degrees in lighting and today, offers a M.S. in lighting and a Ph.D. to educate future leaders in lighting. Learn more at www.lrc.rpi.edu.
About Rensselaer Polytechnic Institute
Founded in 1824, Rensselaer Polytechnic Institute is America's first technological research university. Rensselaer encompasses five schools, 32 research centers, more than 145 academic programs, and a dynamic community made up of more than 7,900 students and more than 100,000 living alumni. Rensselaer faculty and alumni include more than 145 National Academy members, six members of the National Inventors Hall of Fame, six National Medal of Technology winners, five National Medal of Science winners, and a Nobel Prize winner in Physics. With nearly 200 years of experience advancing scientific and technological knowledge, Rensselaer remains focused on addressing global challenges with a spirit of ingenuity and collaboration.
Contact:
Rebekah Mullaney
Manager, Research Communications
Lighting Research Center
Rensselaer Polytechnic Institute
(518) 687-7100
Email:
Web site: